Whether you're looking to engage your customers, build your audience, drive sales or donations, or increase your overall brand awareness, I have the online marketing expertise to help you succeed!
Social Media How To's with Romona has partnered with Constant Contact —- the leader in Small Business Marketing — to help you bring all of your marketing efforts together to grow your business.
Constant Contact is your single source for the marketing campaigns, contact management, and list growth tools you need in order to engage your audience.
Contact me today to learn more about how we can leverage the power of Constant Contact to help your business succeed. Not convinced, keep reading to learn more about what Constant Contact can do for you …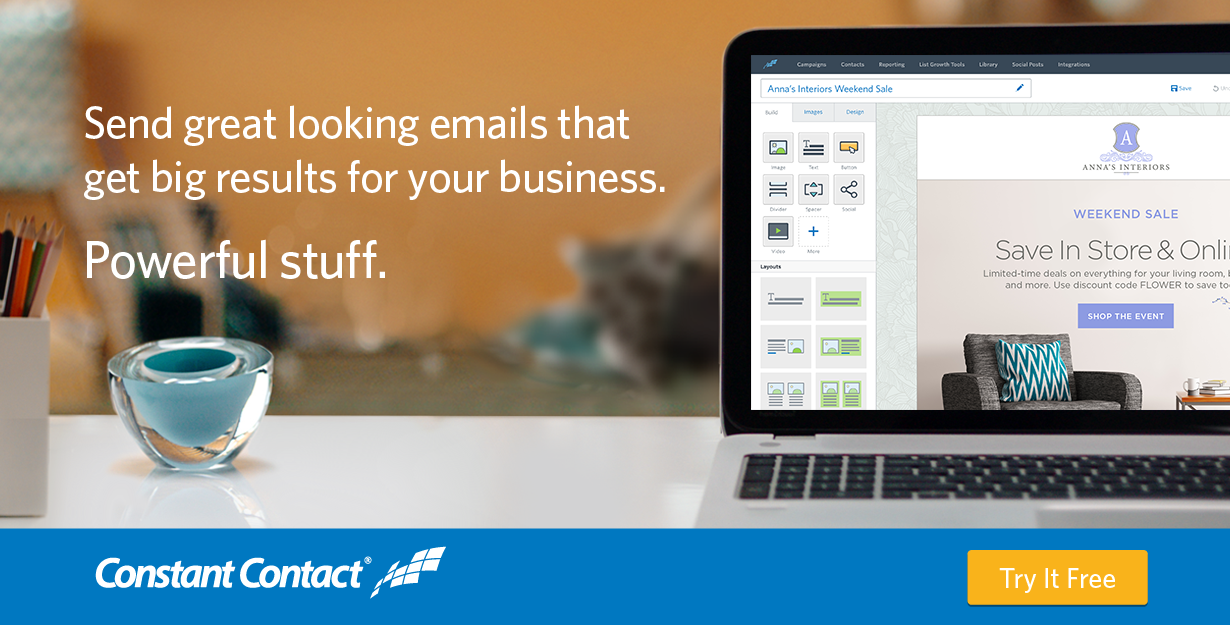 Constant Contact is powerful email marketing made easy with world-class support and education. They are your trusted partner in email and online marketing with the people and the know-how to deliver results for your business. Their powerful and easy-to-use tools help anyone look professional and do more business, and their people and their marketing expertise provide unmatched guidance, support, and education to help any business, regardless of experience, achieve its goals.
Constant Contact is an email and online marketing solution with customizable, mobile-responsive email templates, flexible state-of-the-art email editor, easy-to-use contact management, tools to extend your reach through social media and grow your email list, and additional features that go beyond basic emails to drive more engagement and do more business. Plus, Constant Contact also offers free coaching and support by phone and chat, a vast library of help and educational resources online, and an in-house design team offering a range of one-time custom services.
Powerful email marketing made easy.
Constant Contact makes it fast and easy to get results from your email marketing, even if you're a beginner. Their state-of-the-art email editor is built for speed—just drag and drop. And with powerful features like customizable Action Blocks and email list growth tools—plus free live support, you'll connect with more customers and drive bigger results with every email you send.
The best emails start with the industry's best email editor.
Constant Contact's powerful drag-and-drop email editor makes it easy to create, send and share professional-looking emails in minutes—even if you're a beginner. And because every template is mobile-optimized, you can be sure that your emails will look great on everything from desktops to smartphones.
Supporting statements from a MeasuringU
 2017 study:
First-time users prefer creating emails with Constant Contact 4-to-1 over top competitors.

First-time users prefer creating emails with Constant Contact nearly 10-to-1 over MailChimp.

Compared to top competitors, 72% of first-time users find Constant Contact's email editor to be the easiest to use.

When choosing between email editors, first-time users are much more likely to recommend Constant Contact than MailChimp.
Drive more results from every email, with Action blocks.
Action Blocks have helped Constant Contact customers increase email click-thru rates by as much as 230%. That means better results with every email you send. Whether you want to collect RSVPs, customer feedback, donations* and more—you'll find an Action Block that drives readers to take the specific action you want them to take.
Big results start with a bigger email list.
One of the easiest ways to boost your email results is to increase the number of people that receive your emails. That's why Constant Contact offers all kinds of tools to help you get new subscribers and grow your email list. From sign-up forms for your website and Facebook Page to text-to-join tools and mobile apps, a bigger email list is just a few clicks away.
The best live support and education in email marketing. Period.
Whether you're looking for email marketing advice, or just need a little technical help, Constant Contact experts are there for you via phone or chat—totally free. They have the experience and know-how to help you succeed. And if you want more in-depth education and guidance, they provide a vast library of marketing know-how content and online webinars.
Email marketing that helps your business do more business.
Helping you get real results from your email marketing is at the heart of everything Constant Contact does. That's why they've built one of the industry's best email editors—and why they provide the industry's best live support. Because when you succeed, we all succeed!
Read About Some of Constant Contact's NEW Features:
Send Automated Emails with Constant Contact
Integrate Constant Contact with Facebook, Eventbrite, and Google Contacts
Adding Your Customer's Name In Your Email Subject Line