You may notice more and more people are writing articles on LinkedIn (something I have been a little slow at keeping up with) and wondered how you can publish your own articles on LinkedIn's Publishing platform.
This post will provide you with six quick steps on how to create and publish your articles (or blog posts) on LinkedIn.
First, for those of you who may not have heard of LinkedIn articles, LinkedIn explains the publishing platform that allows you to post these articles like this:
Our publishing platform allows members, in addition to Influencers, to publish articles about their expertise and interests. While publishing an article doesn't mean you're a LinkedIn Influencer, it does allow you to further establish your professional identity by expressing your opinions and sharing your experiences.
Now, here's how you begin …
I recommend you either write your content in a blank notepad, which you can save in a folder specifically for your articles — one article per folder. In the same folder, save the images and videos that you will include in your article.
One thing that I do is repurpose my blog posts. What do I mean by that? I use my old and new blog posts from my website, write an excerpt about them in a notepad, copy the text and paste it into my LinkedIn article text area, then link back to my blog post. This can drive potential customers and clients to your blog.
I know you're ready to get started, so here are the steps you'll need to create and publish your articles to LinkedIn's Publishing platform.
1. When you log in to LinkedIn, it always brings you to the 'Home' page.
In the center column, you will see the box that says, "Share an article, photo, video or idea." This is the box you use to post your daily (yes, I said daily) updates on LinkedIn, but right now, we are going to click on the 'Write an article' button.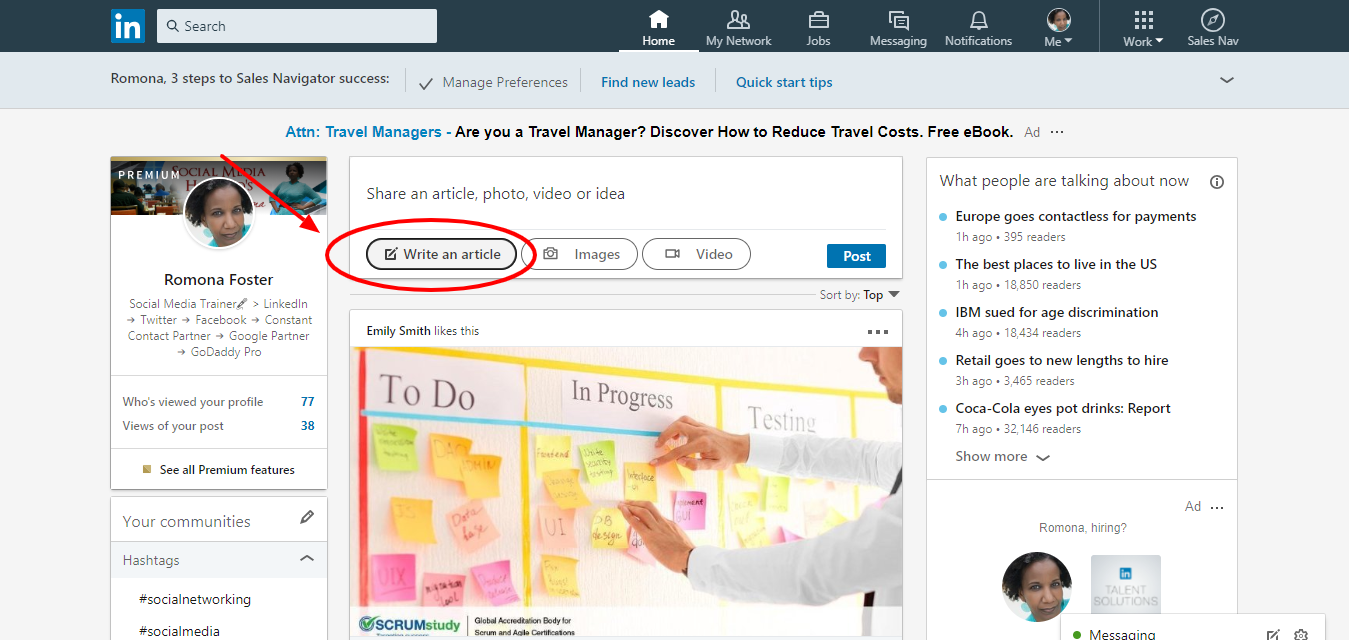 2. This will take you inside the LinkedIn Publisher dashboard where you will see a placeholder image with a plus sign. Click on the plus sign and upload your LinkedIn article cover image.
What size should your article cover image be? I actually did a Google search on "LinkedIn article cover image size 2018" and found many different social media image size articles and charts — including on LinkedIn's own site. Almost all of them gave an incorrect size. I tried at least ten sizes from these articles and the only size that worked was on a social media cheat sheet by Louise Myers. (Let's hear it for Louise!)
I used Canva to resize the article's cover image at 600 x 314 pixels.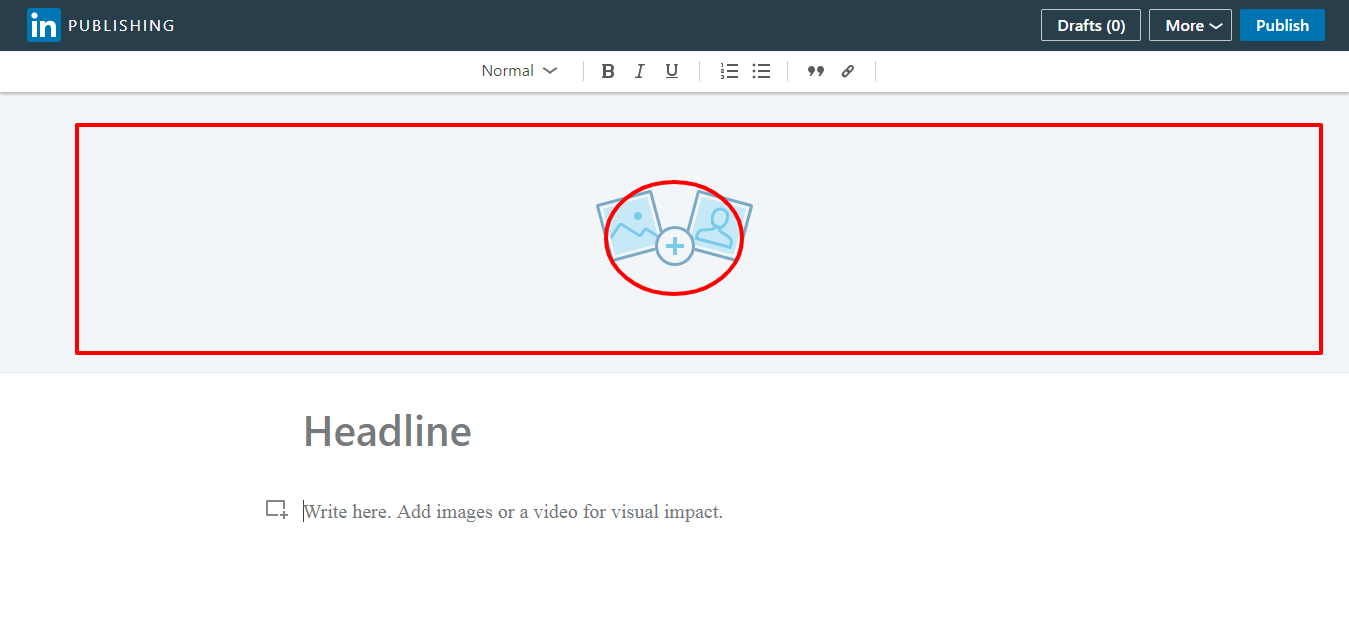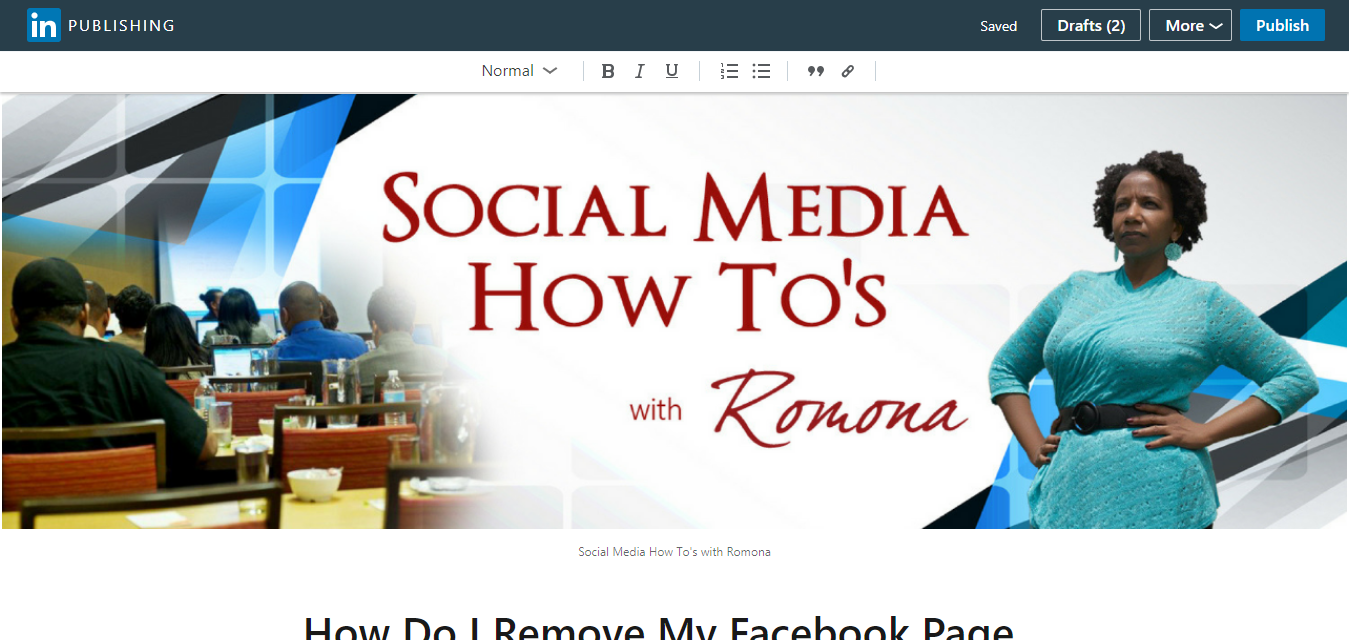 3. Type your headline in the box with the same name ('Headline'). Then, click in the area that says, 'Write here. Add images or a video for visual impact' and either type or copy and paste your content text from your notepad.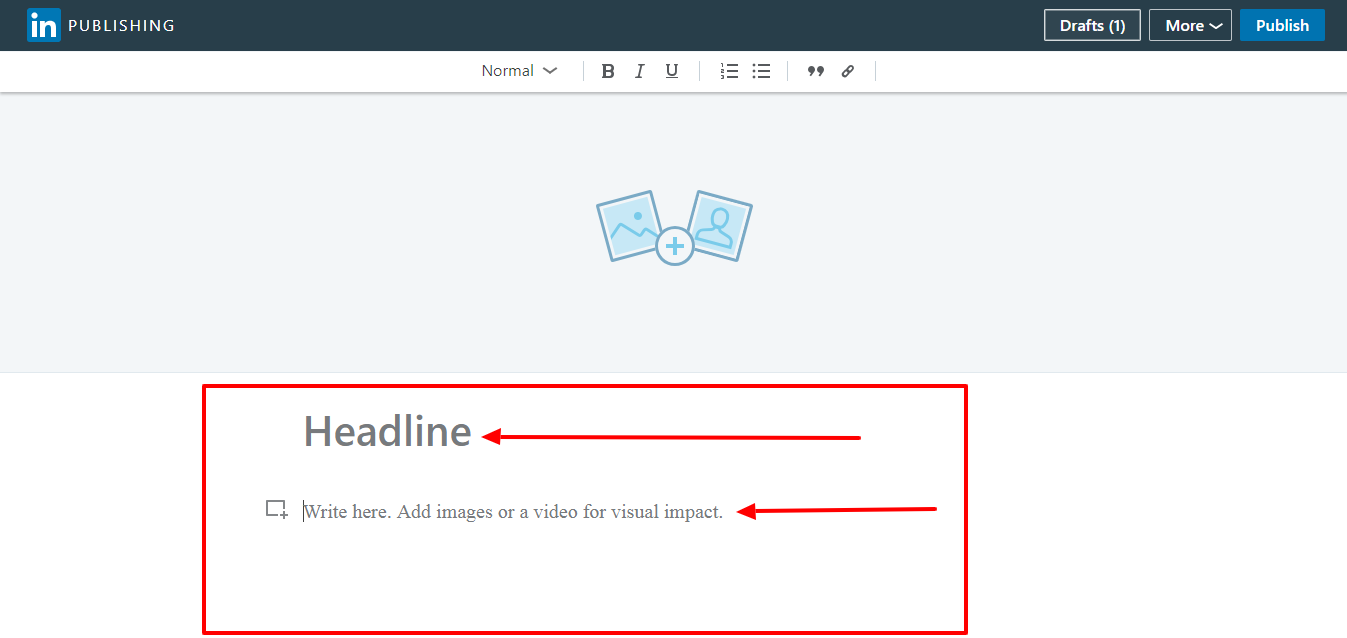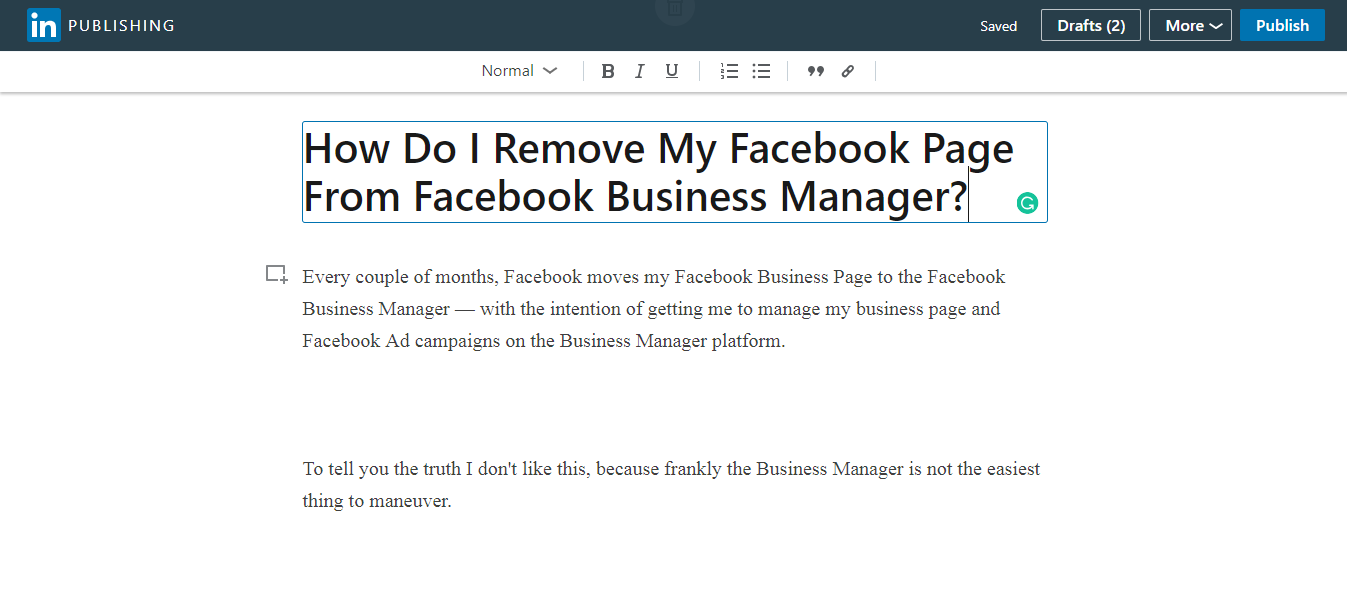 4. Click where you would like to insert your first visual item. A square (visual content) icon will appear. Click on that icon.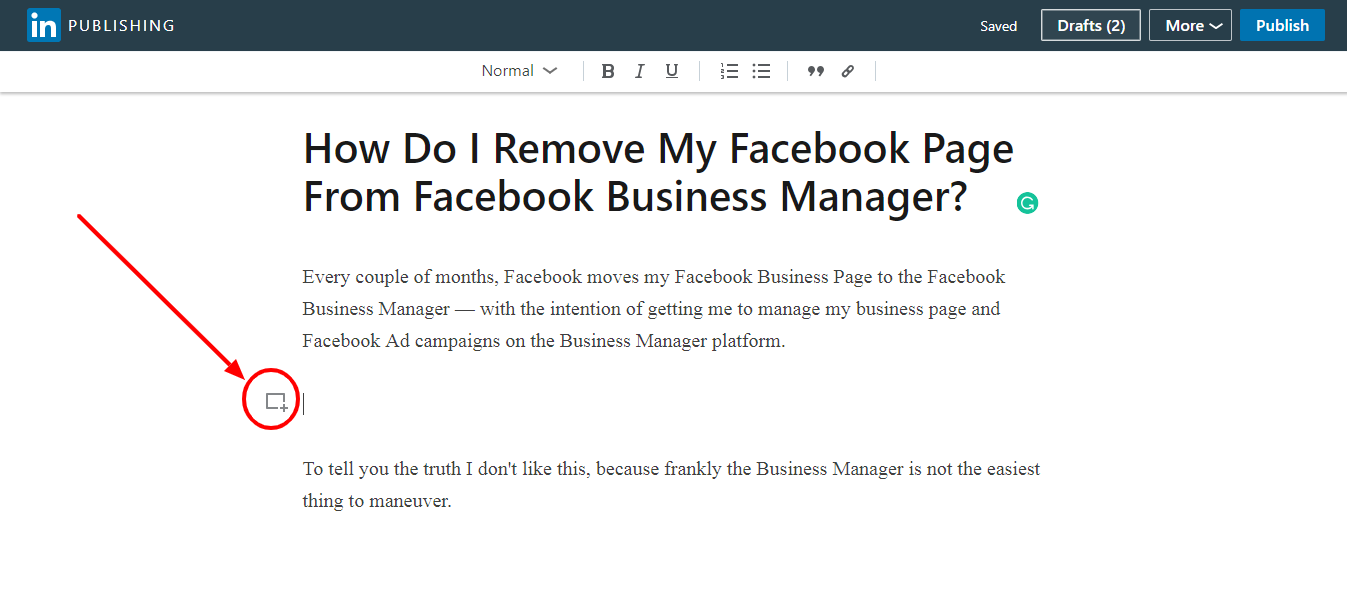 A row will appear with options to insert an image, video, slides, a link or snippet. Select the content you would like to insert in your article.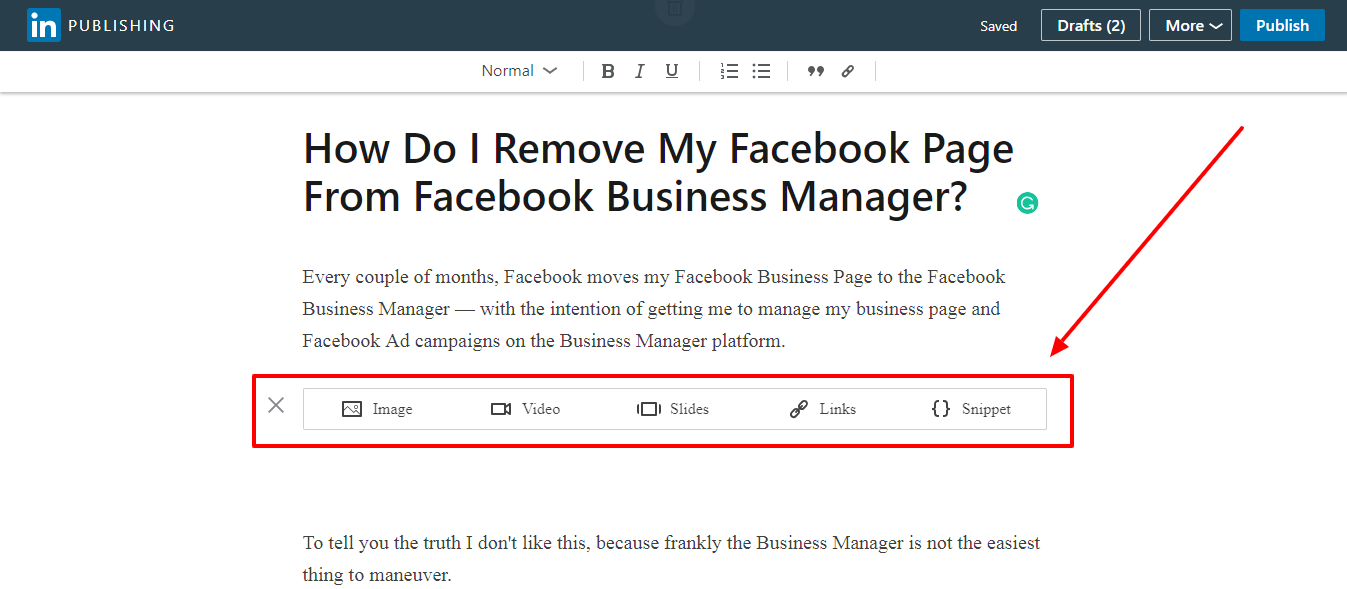 You will now see your visual content in the post.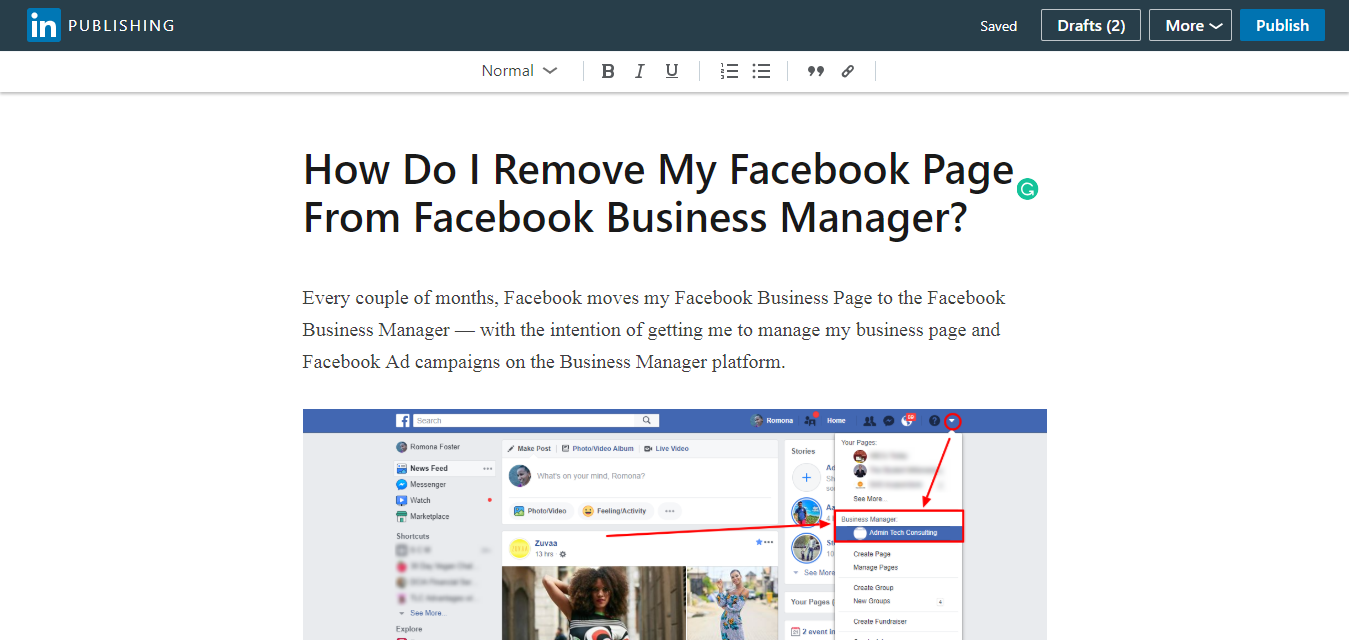 Continue adding all of your text and visual content, and when you get to the end of the post add a call to action such as:
information about yourself;

where people can find your great content;

ask them to call you if they have any questions; or

recommend that they schedule a consultation with you.
Then, click on the blue 'Publish' button in the upper right-hand corner.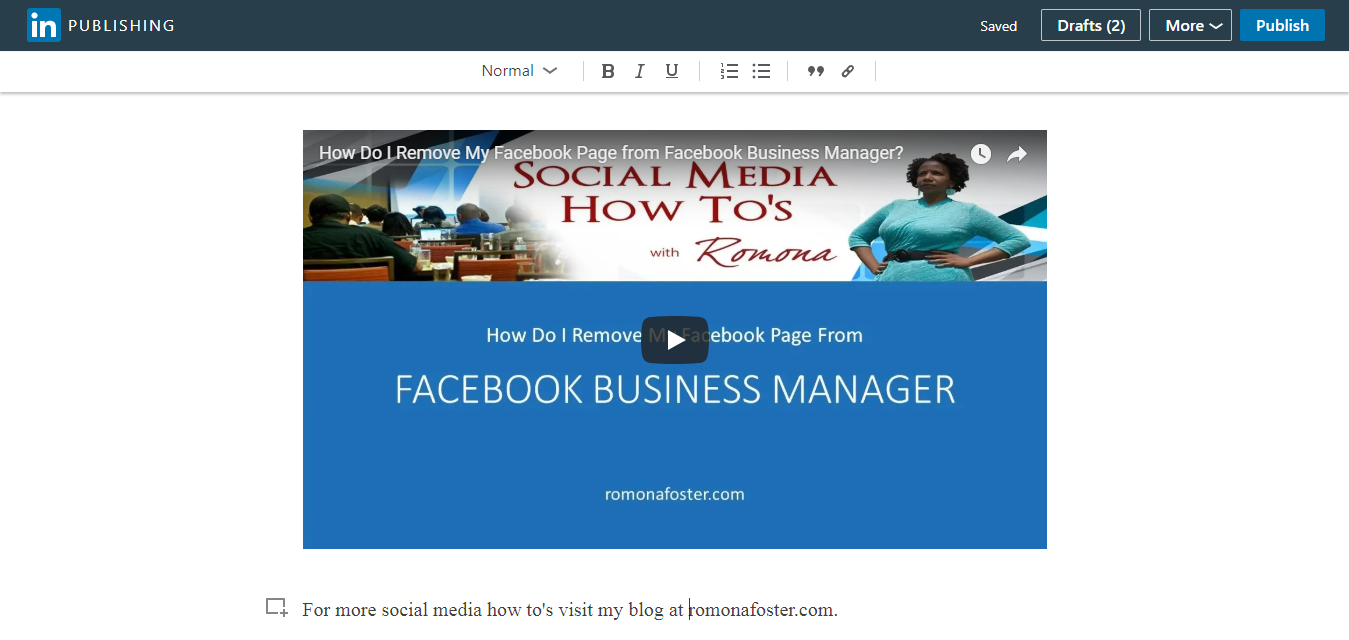 5. A dialogue box that says, "Tell your network what your article is about. Use #tags to help others find it" will appear. You will see the title of your article which will become clickable to others, and a note stating, "This is how your article will appear on the LinkedIn feed."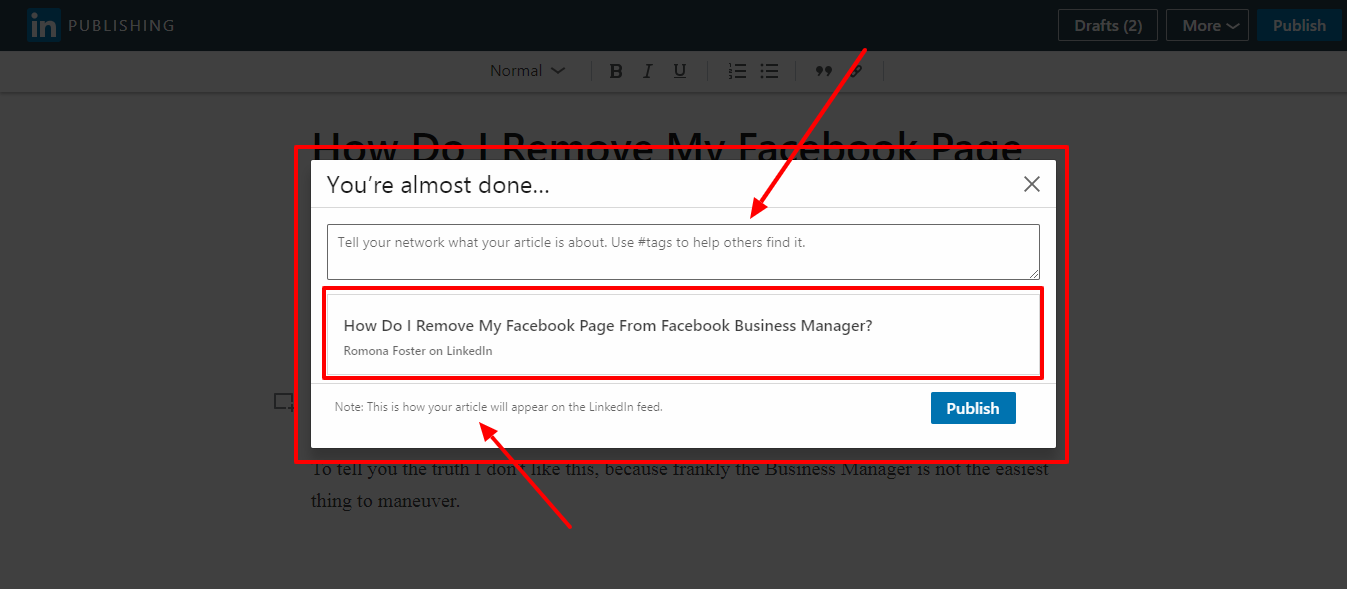 Type a brief description about your article, and click the blue 'Publish' button at the bottom right corner of the dialogue box.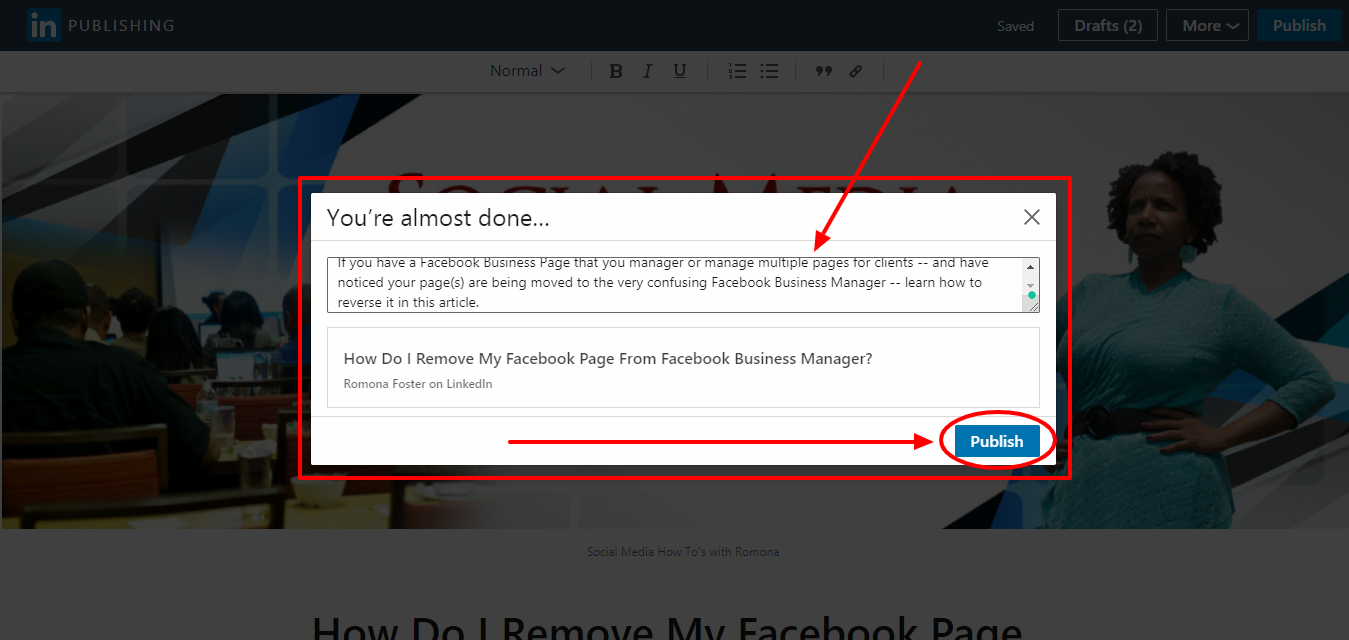 6. Finally, you'll receive LinkedIn's "Congrats, your article has been published!" message with options to share on Facebook and/or share on Twitter.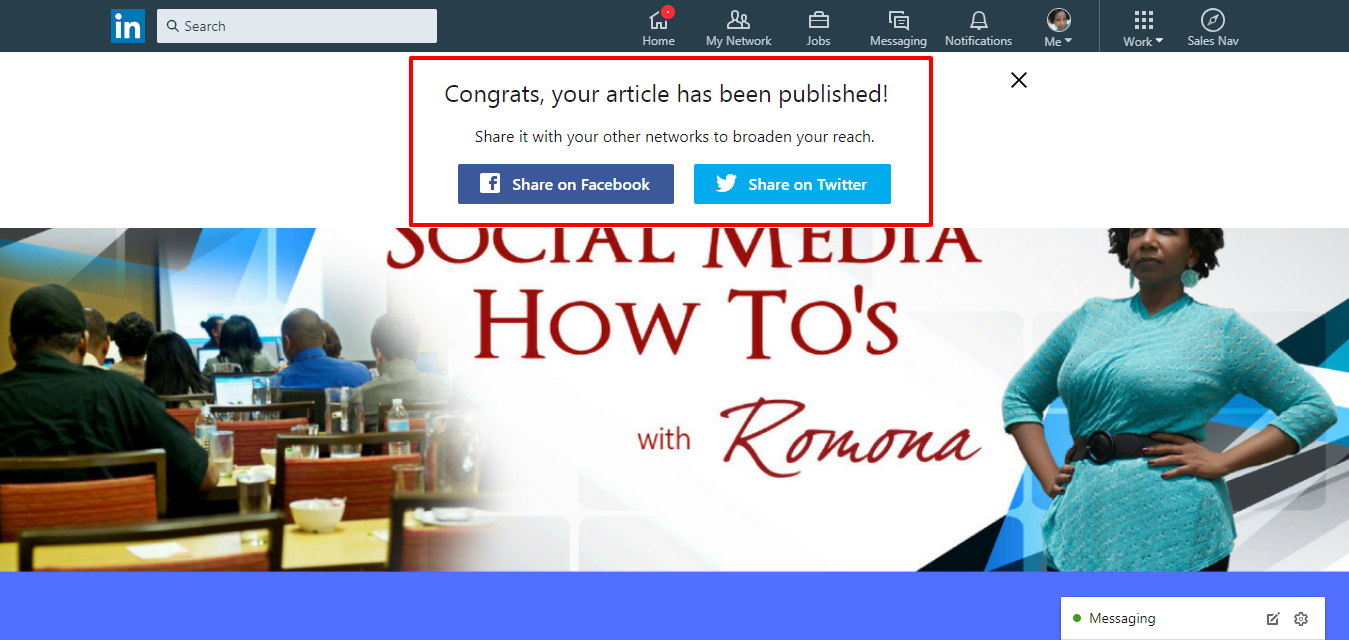 I'm not a big fan of cross-posting from one social media platform to another, so I do not recommend that you do that. However, I would recommend that you share your original post from your blog onto Facebook and Twitter.
So, there you have it. You have officially published your very first article on LinkedIn!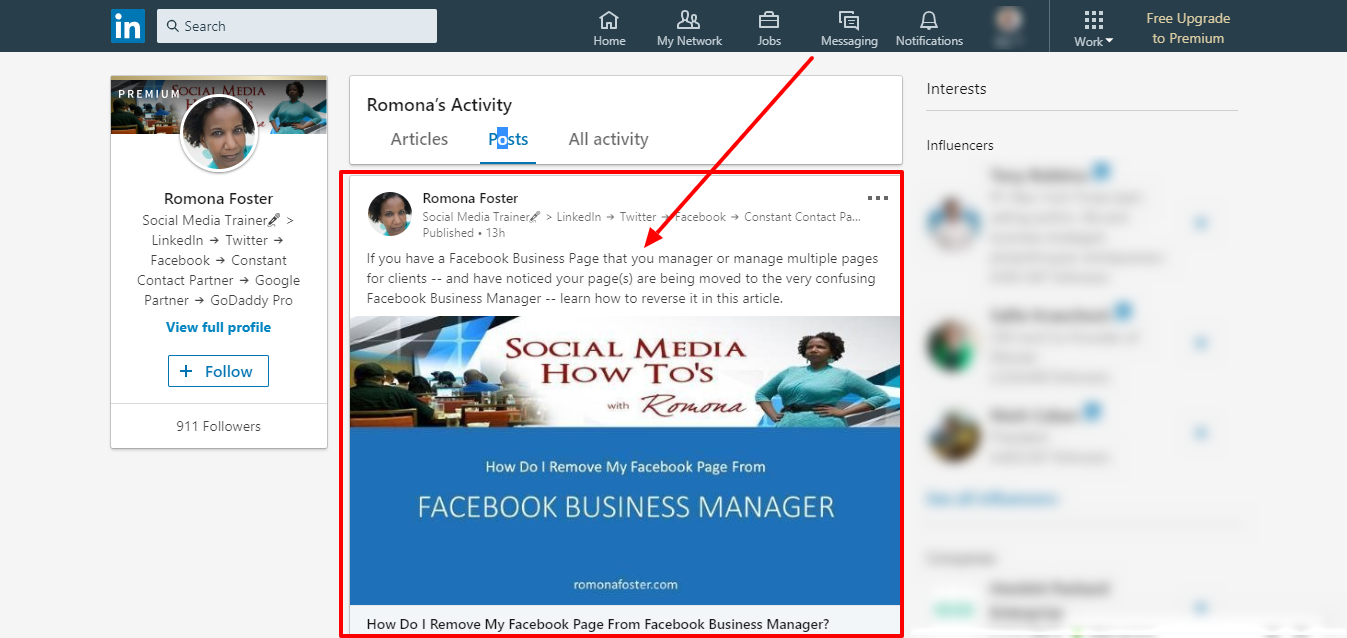 This is my do as I say do, not as I've done in the past statement … BE CONSISTENT with your LinkedIn articles. Try to make a commitment to yourself to write an article daily, weekly, bi-weekly or once a month. Whatever you choose, just try to be consistent.
A final note: At this time, you can only publish articles on your desktop computer or laptop. Hopefully, at some point, LinkedIn will make their publishing platform available on mobile devices.
Romona Foster is the Social Media Trainer and Consultant at Social Media How To's with Romona. Romona teaches small businesses and nonprofits how to use Facebook, LinkedIn, Twitter, Instagram, Google My Business — and the best practices of Email Marketing, Online Marketing, Affiliate Marketing, and Personal Branding. She is a featured contributor with Business2Community and is a Constant Contact Community blogger.