One of the most overlooked features of the Facebook Business Page is the ability to schedule posts.
Facebook's scheduling feature will save you time, by allowing you to create back-to-back posts and schedule them to go out on specific dates and times in the future.
You can only schedule posts on Facebook to the Facebook Business Pages. Facebook Personal Profiles do not have the ability to schedule posts.
I created a video tutorial on how to schedule posts to your Facebook Business Page. If you'd prefer to watch the video, click on the play button below to get started.
Are you ready to start posting? Here we go …
1. Login to your Facebook Personal Account.
This will bring you to your Facebook News Feed or Home Page.

2. Click on either the drop-down arrow in the upper right-hand corner (as you see in the image above) to select the Facebook Business Page you wish to post on or click on the Facebook Business Page in the left-hand column under 'Shortcuts' if your page is listed there. You may also see your page at the top of the right-hand column. It varies as Facebook sometimes randomly places pages in different locations.
This will take you to the Facebook Business Page you have selected.
3. Once on your business page, click in the box that says, "Write a post…" You may need to scroll down a little to see it.

4. Type your post text. Then, paste or type any link that you want to include in your post.
If you include a link, a preview of the link content will show below the post. It could be a picture, text or both which Facebook will pull from the website that the link is associated with.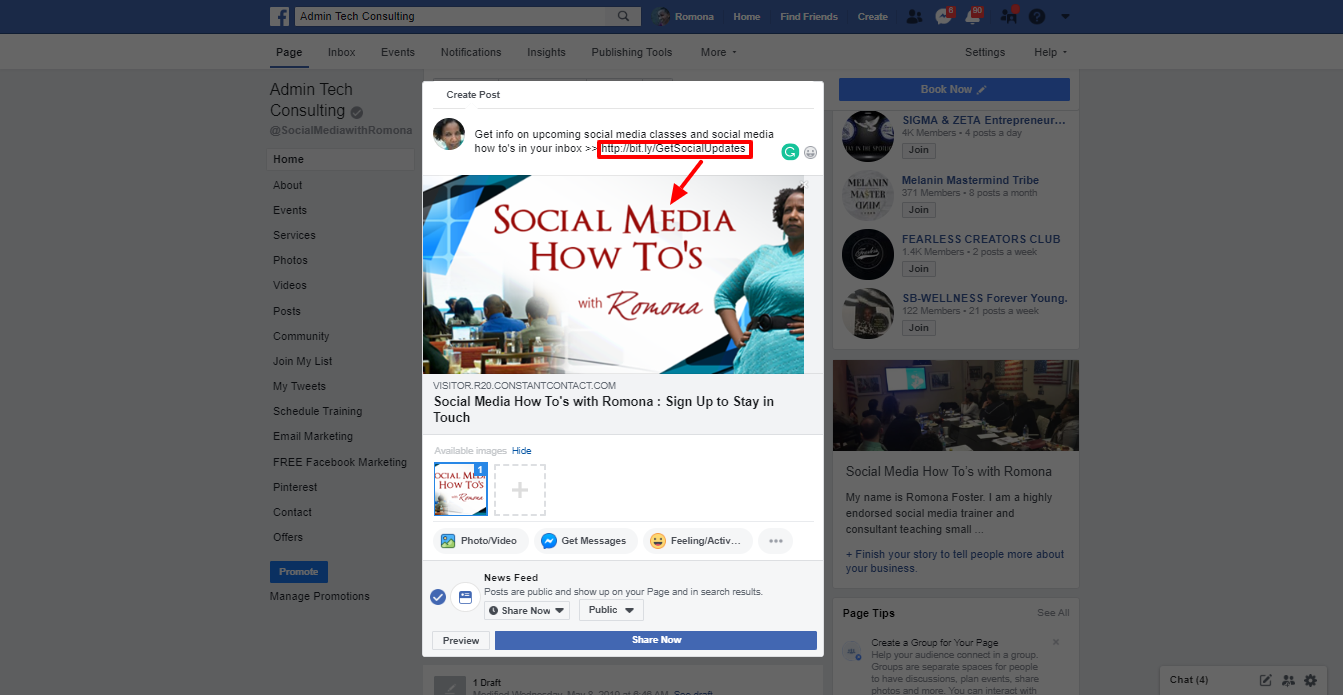 5. After you've typed your post text, if you want to add a photo or video, click on the gray 'Photo/Video' button and upload a photo or video from your computer or mobile device. You will also be given the option to use a photo already on Facebook (see image below).
If you used a link with your post text, the preview image and/or text will display by default. If you'd rather use an image instead of the preview image and/or text, just click on the 'X' in the upper right corner of the preview. It will go away, allowing you to now click on the 'Photo/Video' button as described above.

6. Under the words 'News Feed' you will see a 'Share Now' button with a drop-down arrow to the right of it. Click on the drop-down arrow. Then, click on 'Schedule'.
7. You will now see a 'Schedule Post' dialogue box. Click on the calendar and select the date which you want your post to go out. Also, type the time in the time field. Be sure to choose AM or PM.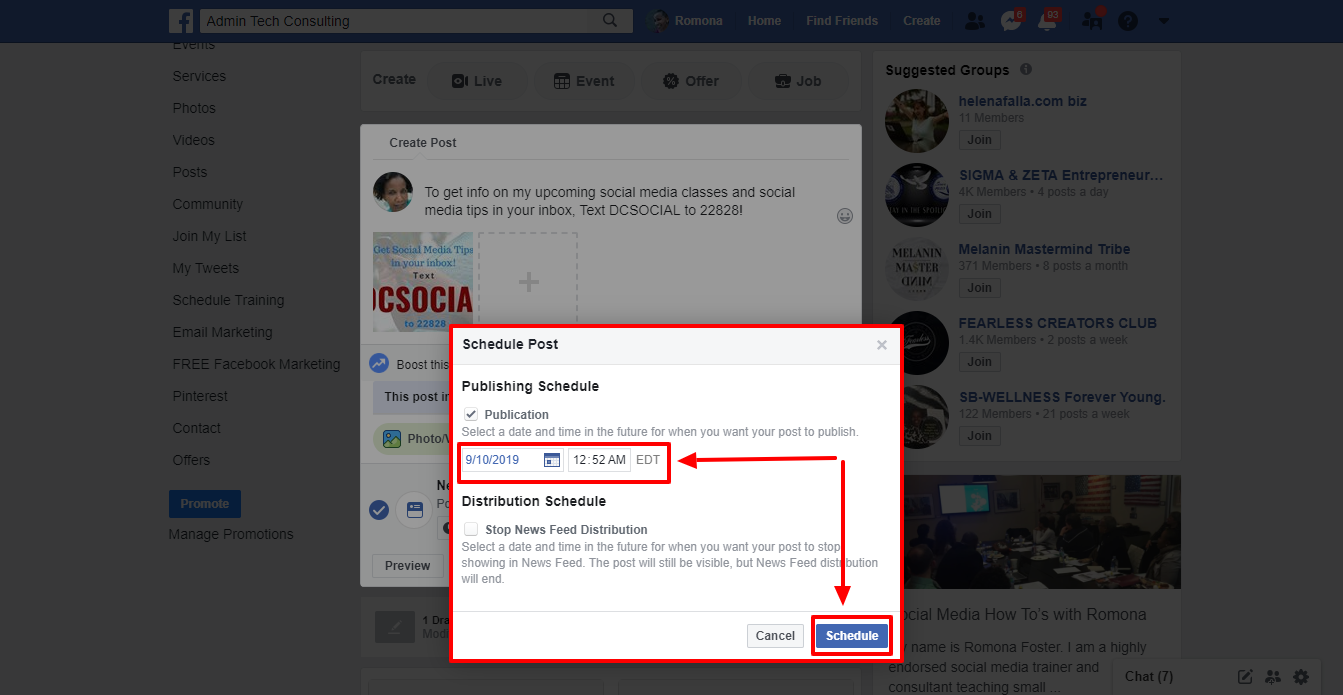 Now, click on the blue 'Schedule' button.
8. Your page will refresh, so wait until it finishes the loading process.
9. Now that you've scheduled your post to Facebook, you will see, under the 'Write a post…' section, a box that says, '1 Scheduled Post'. This box will also list what date and time you scheduled the post to go out.

You may also click on the 'See post' link to see a list of all of the posts that you have scheduled. If this is your first post, of course you will only see one at this time, but as you become a scheduling champ, you will see loads of posts in there, right? 🙂

The screenshot below will show you what the post that I scheduled looked like after the scheduled time arrived and the post hit my business page.

BONUS 1: How Facebook's Scheduling Post Feature Can Help You
Scheduling your Facebook posts can:
Help you save time if you set aside a day once a week or once a month to schedule a bunch of posts.

Help you maintain a consistent flow of content on your Facebook Business Page for your audience to consume.
BONUS 2: Create a Posting Schedule
Create a content calendar using your Google calendar, Outlook calendar, spreadsheet or Google Doc, for example.

Type in the content you will be posting on what dates and times you want to schedule the posts to go out.

Include on the content calendar the images, videos, and links that you want to include in your scheduled posts.

Then schedule the posts using Facebook's scheduling feature as described above.
Follow these instructions and they should help you manage your Facebook Business Page a whole lot better.
Now, breathe! 😉
Need help getting started with Facebook? I'm still here for you. Schedule one-on-one Facebook training by clicking here >>
---
Additional Resource(s):
How do I schedule a post and manage scheduled posts for my Page?
Romona Foster is the Social Media Trainer and Consultant at Social Media How To's with Romona. Romona teaches small businesses and nonprofits how to use Facebook, LinkedIn, Twitter, Instagram, Google My Business — and the best practices of Email Marketing, Online Marketing, Affiliate Marketing, and Personal Branding. She is a featured contributor with Business2Community and is a Constant Contact Community blogger.