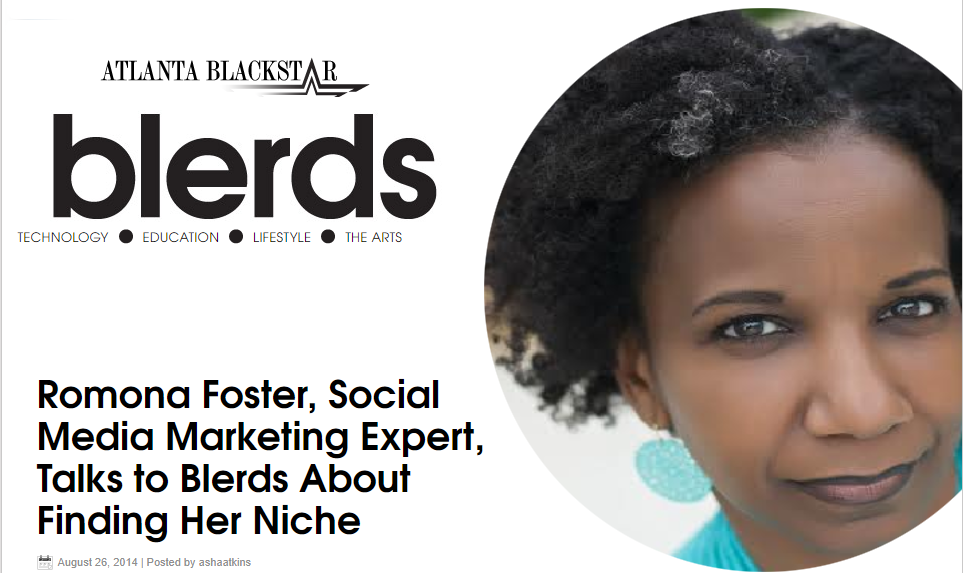 I was so excited when Atlanta Black Star contacted me for an interview. Atlanta Black Star publishes empowering narratives for all people of African descent. I was featured in their Black Nerds (BLERDS) column. (Apologies in advance for the grammar. I attempted to have the errors corrected, but they said they couldn't make changes once published.
Romona Foster, a Pennsylvania native, never imagined that her skills as an events planner would lead her to have a strong role in the tech field as a social media consultant. She is revered for her training style and her expertise in social media management and marketing. Foster shares her unexpected journey to becoming a social media trainer and consultant.
Q: What are three words you would use to describe your professional journey?
The first word that I would use to describe this journey is unimaginable. I would not have imagined in a million years that I would be doing what it is that I'm doing today. And I love what I do.
The second word would be difficult. When I first started doing social media management and marketing, I was out of work. Getting to this place where I am now was hard, and many people admire where I am and often think it just happened. It took a lot of hard work.
The last and final word would be amazing. When I look back at the times when I was down and out, I think about how far I have come, and the journey has been amazing. To know that people are looking for me, asking me to be places to help them, are excited about what I have to offer after all this time is still amazing to me. I thank God for the opportunity. Without Him, I wouldn't be here.
Romona Foster is the Social Media Trainer and Consultant at Social Media How To's with Romona. Romona teaches small businesses and nonprofits how to use Facebook, LinkedIn, Twitter, Instagram, Google My Business — and the best practices of Email Marketing, Online Marketing, Affiliate Marketing, and Personal Branding. She is a featured contributor with Business2Community and is a Constant Contact Community blogger.