I'm grateful to have been mentioned in this piece by Sarah Jedrey!
September 13 was just amazing. The whole weekend was dense with events and what seems to be the Real Arrival of Fall, complete with a drizzly, cool, gray weather pattern outside the Microsoft office in Chevy Chase. Inside, it was alive with a sea of excited tech folks and DC Web Women's chosen neon-green color scheme. It was like they knew how the weather would be and were combating it with design …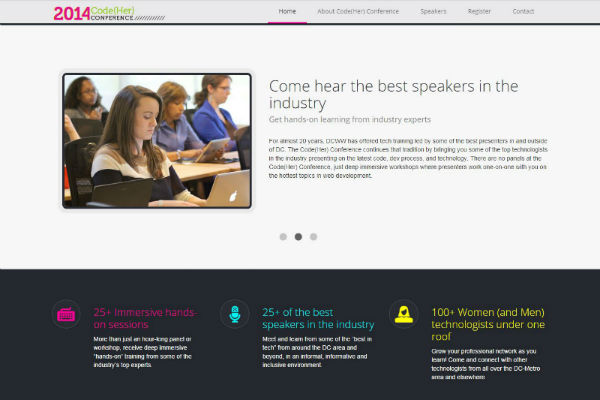 The New Word-of-Mouth
The Social Media Trainer and Consultant at Admin Tech Consulting, Romona Foster, is a woman of many talents. Due to the laptop and projector refusing to talk to each other for a half hour, we learned that one of her talents was to memorize the name of 30 people in a few minutes. What could've been a dull disaster became a high-energy exchange of ideas about the role of social media and how to convince clients reluctant to change.
How photos impact user engagement on #socialmedia @AdTechConsults @dcww #codeher2014 pic.twitter.com/LDaoFT6kAF

— Creative Colony (@creativecolony) September 13, 2014
The room, with those 30 attendees, represented a range of experience from novice to master. The conversation we had brought home the fact that "social media" is as big and complex a subject as you could imagine. We touched on strategy, platforms, engagement, content sourcing, ethics and laws, time-savers, and stereotypes, and we still hadn't exhausted ourselves when it was time to depart. But before we did, Romona left us with a good, actionable list of tips and tools especially useful for the less-experienced.
Content tips for starting a blog from @AdTechConsults at the @dcww #codeher2014 pic.twitter.com/CQzOrTRa0j

— Shala W. Graham (@shalawgraham) September 13, 2014
Romona Foster is the Social Media Trainer and Consultant at Social Media How To's with Romona. Romona teaches small businesses and nonprofits how to use Facebook, LinkedIn, Twitter, Instagram, Google My Business — and the best practices of Email Marketing, Online Marketing, Affiliate Marketing, and Personal Branding. She is a featured contributor with Business2Community and is a Constant Contact Community blogger.