I love learning new technology tricks, so when I got the chance to try out Gmail's new email scheduling feature, I decided to create a how-to blog post showing you how you can schedule your email messages using Gmail as well.
So, this is going to be quick. Here are the 6 easy steps to scheduling an email using Gmail:
This Gmail tutorial is for your desktop or laptop computer, but I've also created another post to show you how to schedule Gmail emails on your mobile phone. (If you'd rather watch the video, click the play > button on the video below!)
1st Step: Log in to your Gmail account and click on the big red, yellow, blue and green plus sign in the white circle in the left-hand corner. This is now what used to be the 'Compose' button.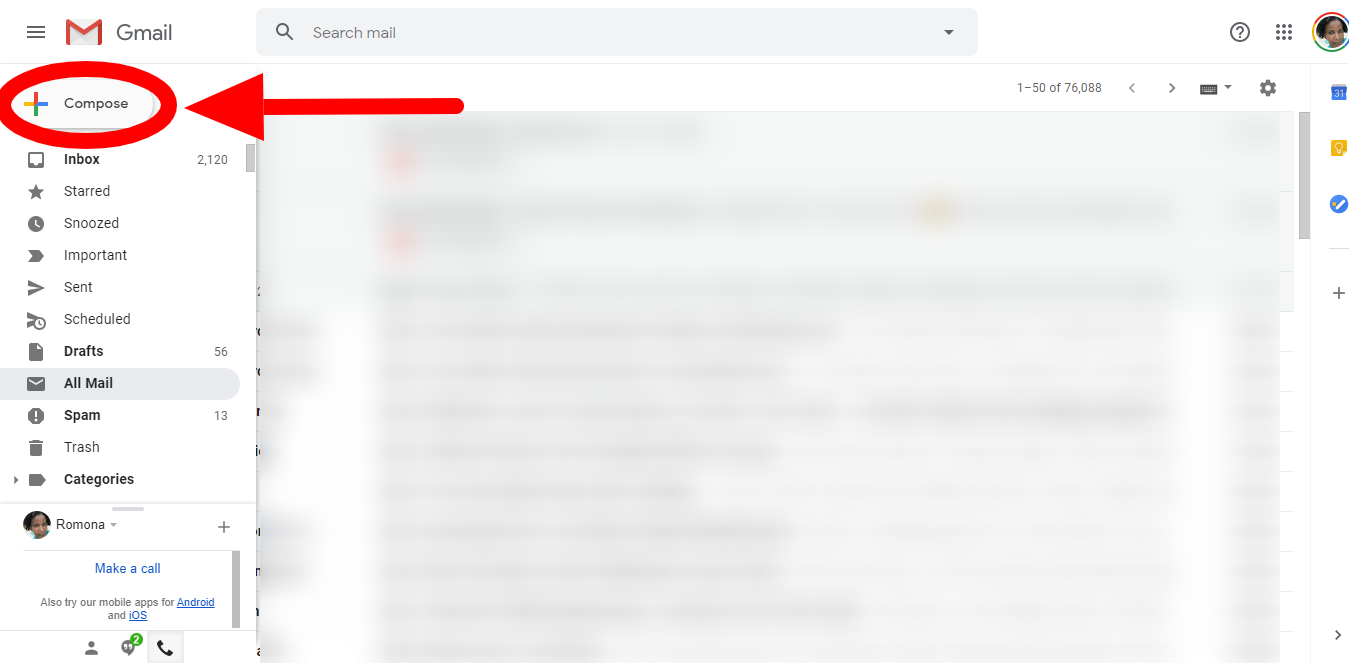 2nd Step: A small 'New Message' box will pop-up for you to begin composing your email message. You can expand this box by clicking on the middle icon – the two arrows pointing to each other – in the upper right-hand corner of the email box.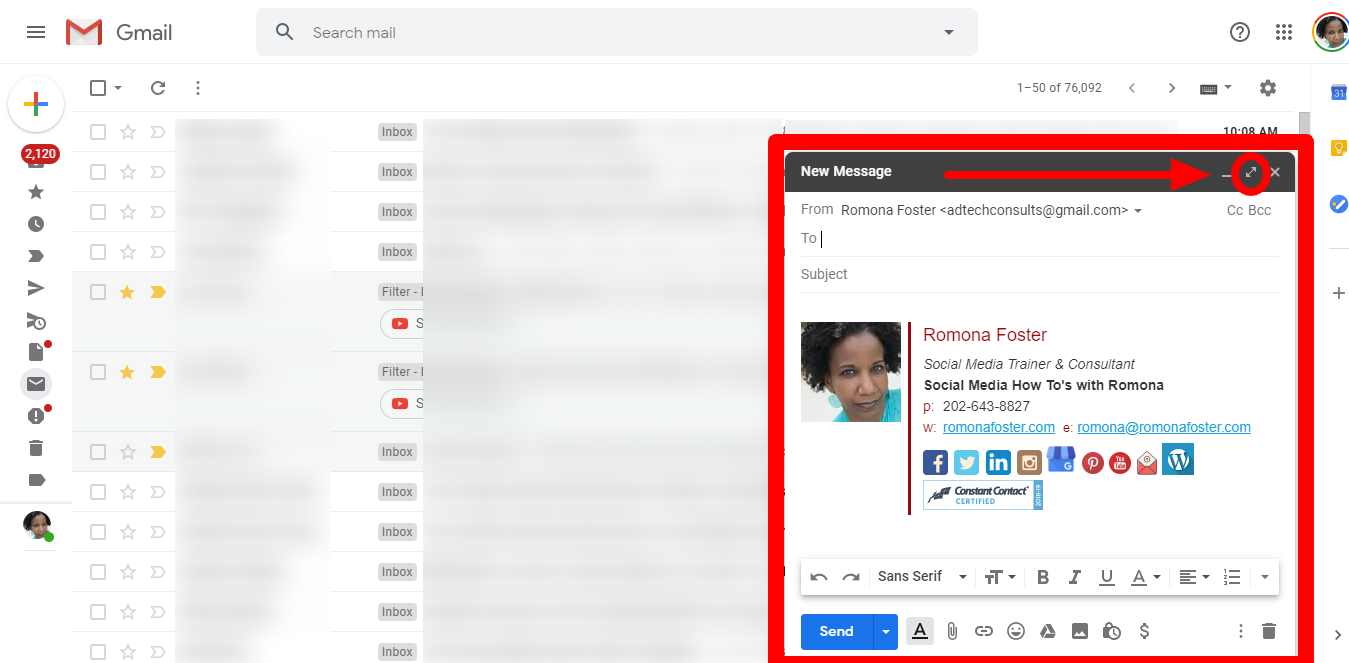 3rd Step: Go ahead and compose your email in the 'New Message' box as usual by entering your subject, and the recipient's email address. Click in the body of the email to begin typing your text.
4th Step: Click on the drop-down arrow on the blue 'Send' button. Then click on the 'Schedule send' button that pops up.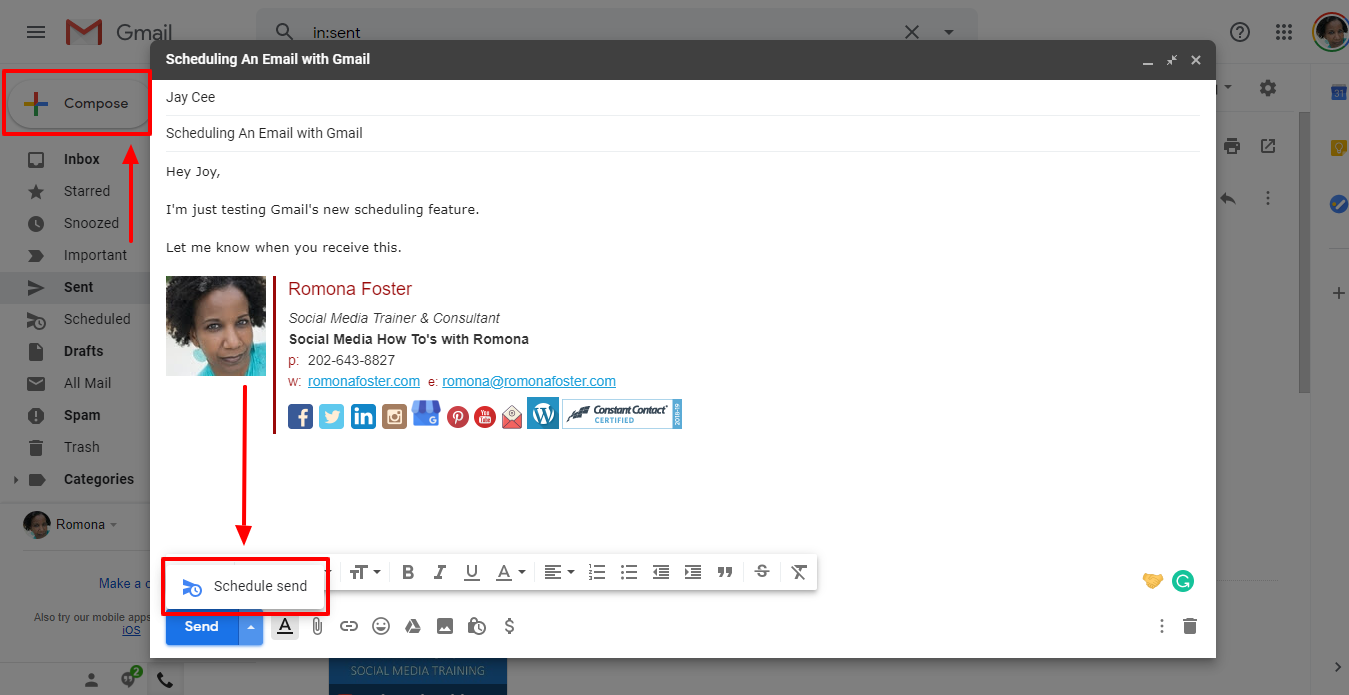 5th Step: Next, in the 'Schedule send' box, click on one of the suggested dates and times to send or click on the 'Pick date & time' link.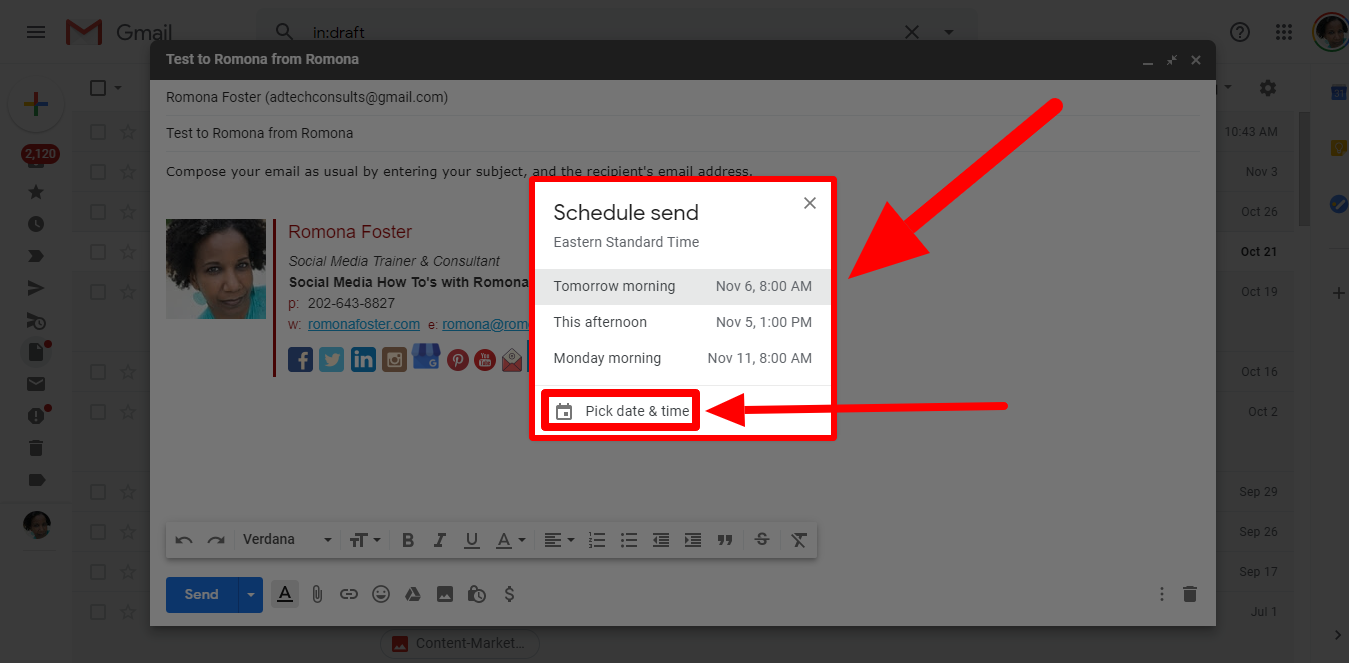 6th Step: If you choose the 'Pick date & time' box, select the day you want to send your email out. Then type in the time by clicking in the time box.
Click on the 'Schedule send' blue button.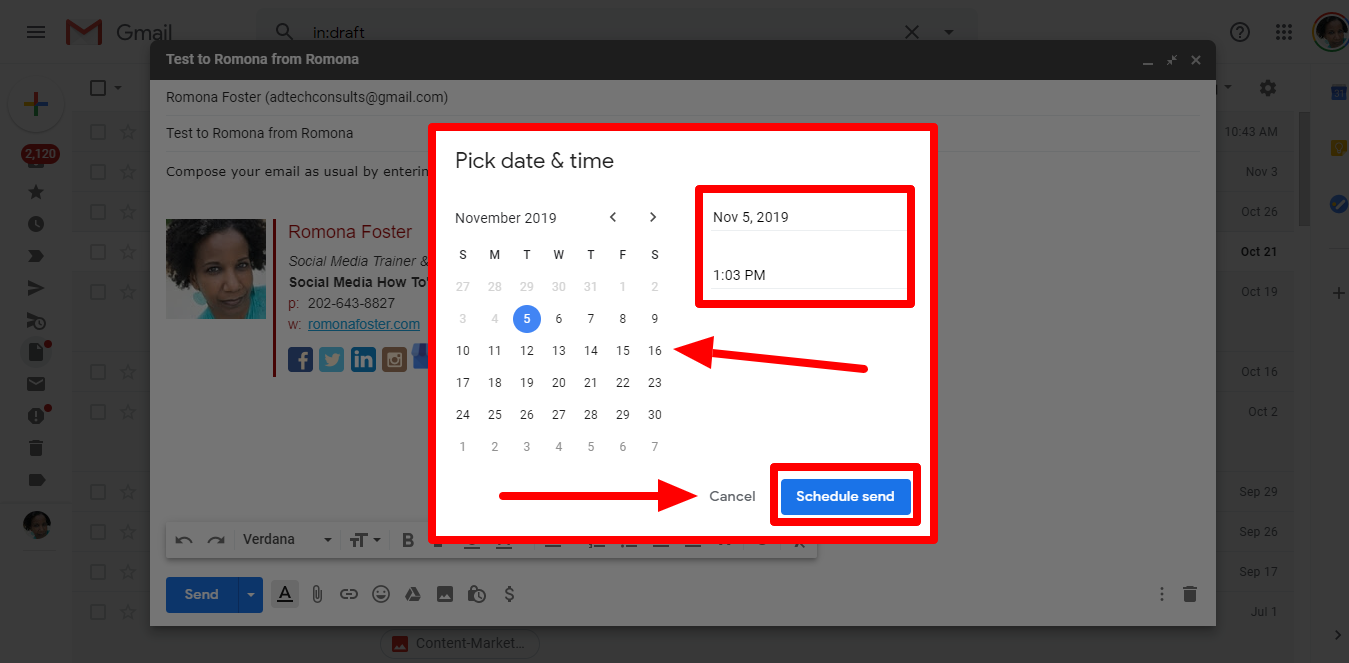 You will see a message pop up in the bottom left corner letting you know that your email was scheduled. This flashes on the screen and disappears rather quickly, so if you don't see it, just follow the steps below to verify that the email has actually been scheduled.
BONUS:
What I discovered is that you can put the email on 'Snooze' (send later) if you change your mind and don't want to send the email at your original send time — or you can change the date and time if you'd like.
You will also have the option to delete the email and not send it at all.
Here's how you snooze, change the date or time, or delete your scheduled Gmail email message:
Click on the 'Schedule' icon in the left panel. It will say, 'Scheduled' if you already have an email in queue.

Look for the scheduled email in the right panel.

Move your cursor over the time on the scheduled email row on the right, and click on it. You will now see four icons. They are:
Archive is the one with the down arrow. Use this to archive the message.

Trash Can is … guess what? For you to delete your message, of course! 🙂

Envelope is to mark the email unread.

Clock is where you can snooze or change the scheduled date and time of your email.


Click on any one of those to perform any of the functions listed above.
That is it. You have officially scheduled your very first email using your Gmail account. Wasn't that easy?
If you have any techie questions that you think I can help you with, hit me up, yo! Seriously, always feel free to reach out to me if you have any questions.
Call me at (202) 643-8827 (but be sure to leave me a message if you want a call back), text me at the same number, or schedule a free 15-minute consultation here.
I can't wait to hear from you!
---
Another Gmail Tutorial:
HOW TO DOWNLOAD YOUR GOOGLE CONTACTS (or How To Export Your Gmail Contacts)
Romona Foster is the Social Media Trainer and Consultant at Social Media How To's with Romona. Romona teaches small businesses and nonprofits how to use Facebook, LinkedIn, Twitter, Instagram, Google My Business — and the best practices of Email Marketing, Online Marketing, Affiliate Marketing, and Personal Branding. She is a featured contributor with Business2Community and is a Constant Contact Community blogger.