Every couple of months, Facebook moves my Facebook Business Page to the Facebook Business Manager — with the intention of getting me to manage my business page and my Facebook Ad campaigns on this annoying platform. And, every couple of months, I have to take time out of my day to remove it. Ugh!
First, let me explain to you what the Facebook Business Manager is. Facebook says,

"Business Manager is a more secure way to manage your Pages and ad accounts. You can see who's working on what and what they have access to see and work on. You can also keep your business separate from your personal Facebook profile."
I say, "Facebook Business Manager is a platform Facebook created to annoy the heck out of Facebook Business Page Admins — especially social media managers or those of us who manage multiple Facebook Business Pages. It is more trouble than it is worth, extremely difficult to understand, not user-friendly at all, there is no live support for it, and when a Page is in the Business Manager, you can't share anything from your personal account to a Business Page that is in Facebook Business Manager!" How crazy is that?
I thought this was just happening to me, but I Googled it and saw others who are frustrated with this issue. Here is what some of them had to say:
"I despise it and don't want to use it under any conditions."
"It's way too much trouble. I absolutely hate this."
"I've asked for help everywhere, no one responds, even robotically."
"This Business Manager is a COMPLETE LOAD OF SH_T!!!!"
"I despise it to my core!!!"
"HATE IT!!!!!"
"It's an absolute disaster … We are paying for customers Facebook Ads, and there should be support when we're paying for a service. Business Manager is such a poorly designed system, it simply has flaws, and it does not work half the time. How does my account change over to Business Manager on its own?"
Is that enough to convince you not to ever switch to the Business Manager or if Facebook ever switches you over to it, does this help you understand why you should immediately remove your page from it?
Okay, now that you're convinced (if you're not, to you I say good luck with that!), here are the steps to remove your Facebook Business page out of the Business Manager:

If you'd prefer step-by-step directions, I've got you covered. Just scroll a little past this video to read the instructions below.
1. Login to Facebook
2. On the top blue navigation bar, click on the drop-down arrow on the right.
3. Go down to 'Business Manager' and click on the page you want to remove.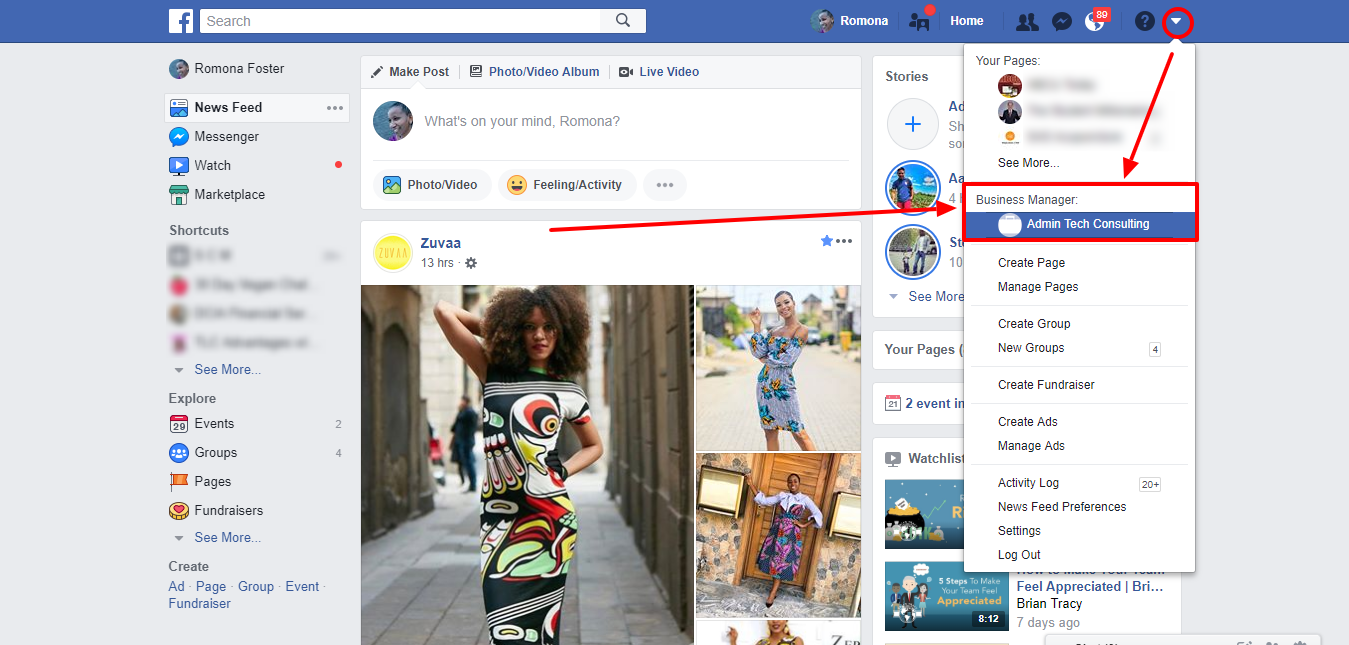 4. This will bring you to the Business Manager home page.

5. Look for the three lines in the upper left corner where it says, 'Business Manager' and click on them.
6. Click on 'Business Settings' in the drop-down on the right.

7. Click on 'Pages' under 'Assigned Assets' (it should already be active by default).
8. Click on the page that you want to remove from the Business Manager.

9. In the upper right corner, click on 'Remove'.

10. Next, you'll see a dialogue box that says, "Remove This Page? [Name of Page] is connected to [@yourinstagramhandle]. Removing this Page will also remove this Instagram account from Business Manager."
11. Click on 'Remove Both'. There is no option to remove just the Facebook Business Page or just the Instagram account. You must remove both at the same time.

12. Boom! You should now see a message letting you know what (if any pages) are connected to Facebook's Business Manager.

There you have it, you have now successfully removed your Facebook Business Page from the Facebook Business Manager. Why Facebook keeps switching pages over to it, is beyond me but I am glad they still offer a way out.
If you have any further questions about managing your Facebook Business Page, feel free to schedule a free 15-minute call with me here >>
If you're interested in creating your own video tutorials like this one, click here to learn how I created this video.
---
Some companies that I mention on this site are my marketing and training partners. I am an affiliate of others. A few of the links above may be affiliate links for which I may be paid a commission if you use them. I only recommend products and/or services from companies I trust, tools I've used, or services/products that are highly recommended — and I feel may be of value to you and beneficial to your marketing efforts.
Romona Foster is the Social Media Trainer and Consultant at Social Media How To's with Romona. Romona teaches small businesses and nonprofits how to use Facebook, LinkedIn, Twitter, Instagram, Google My Business — and the best practices of Email Marketing, Online Marketing, Affiliate Marketing, and Personal Branding. She is a featured contributor with Business2Community and is a Constant Contact Community blogger.