NEWS FLASH: If you have a Google My Business Listing, you should be posting to it regularly just like you do your Facebook Business Page, your LinkedIn profile and your Instagram business account. And, I suggest that you make it a priority over the other social media platforms.
Why? Because it is a Google property, and it will help you to get found when your customers conduct a Google Search!
Here is a little guide with images I put together to show you how to quickly create a post for Google My Business on a desktop computer. This guide also includes a frequently asked questions section just in case you have more questions after you follow these steps.
Let's get started! (If you prefer video, feel free to watch below.)
First, you should log in to your business Gmail account or the Gmail account that you used to set up your Google My Business Listing.
Once you're logged in, follow these steps:
1. Go to business.google.com. By default, this should take you to the 'Manage Locations' tab of Google My Business. If it does not, click on the 'Manage Locations' tab in the left side panel. If you still don't see it, you are most likely not logged in to your Gmail account. Again, be sure to log in to Gmail.
To the right, you will see a list of your locations. Click on the name of the location that you want to manage (i.e., the one you want to post to).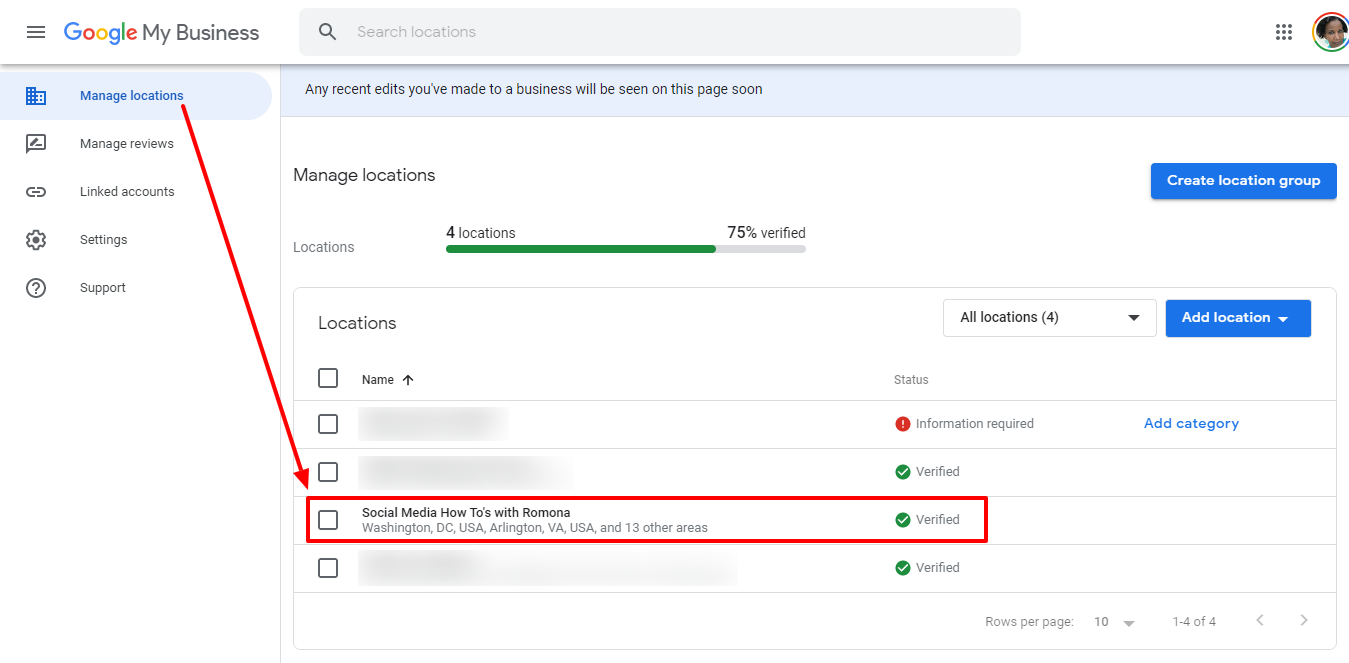 2. This will bring you to the Google My Business dashboard for the business that you clicked on.
Click on 'Posts' in the left side panel.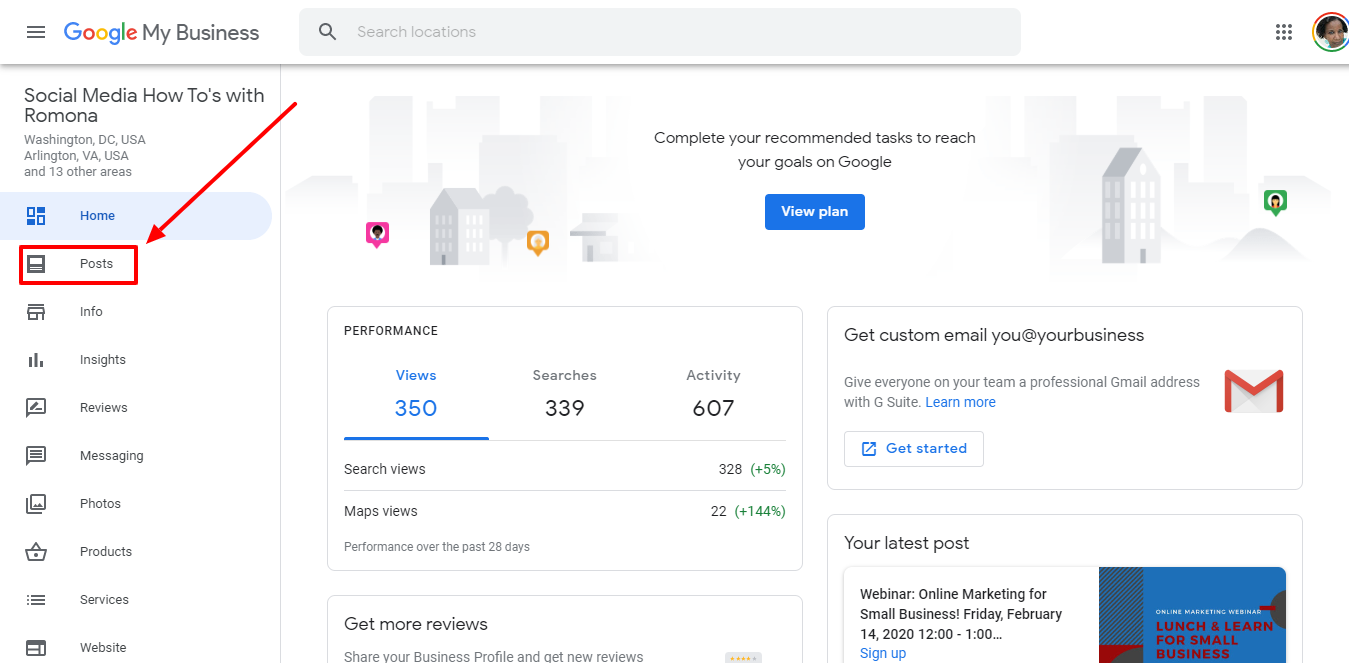 3. Click on 'Add Update' in the options to the right.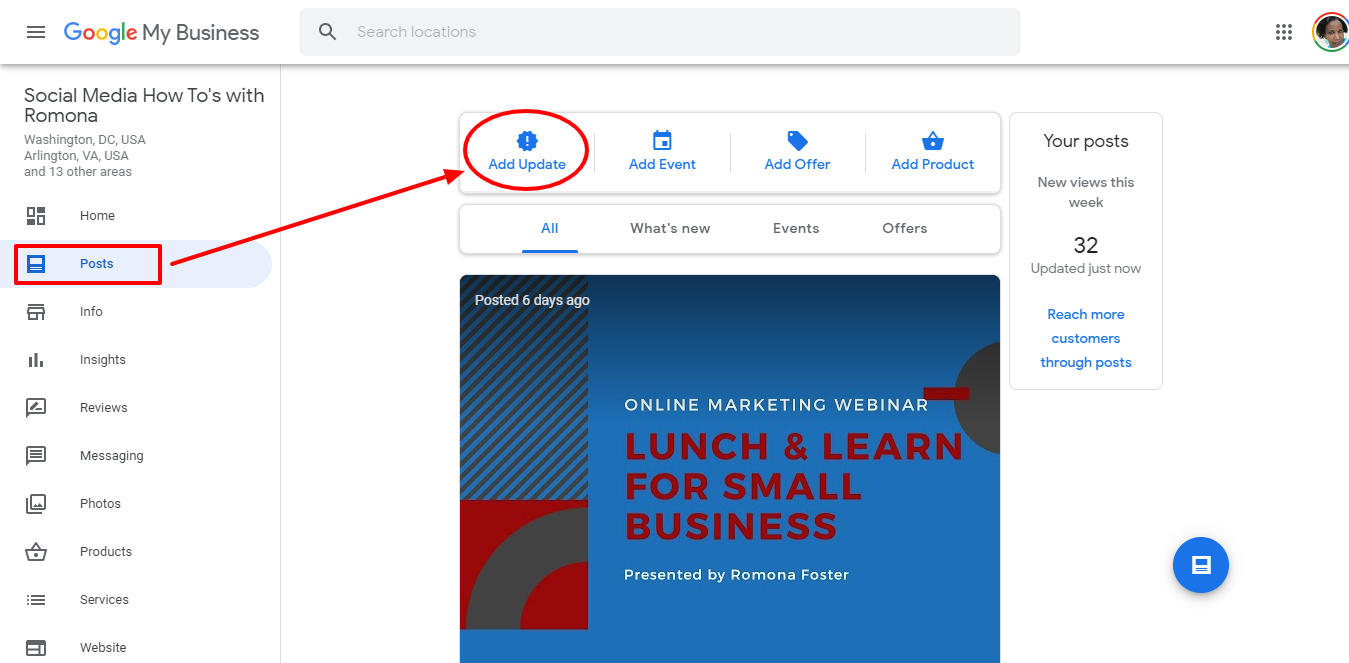 4. In the 'Create post' box, select the type of post you want to create (What's New, Event, Offer, Product). 'What's New' is selected by default.
In this guide, I will be showing you how to create a 'What's New' post, so the options you will see are the camera icon where you can upload a photo or image, the 'Write your post' box where you will type your post's text, an 'Add a button' option where you can add either a Book, Order online, Buy, Learn more, Sign up, or Call now button. If you want to create any of the other types of posts, just simply follow the on-page instructions for the one you choose.
You will be able to see what your post will look like by clicking on the 'Preview' link before you publish it.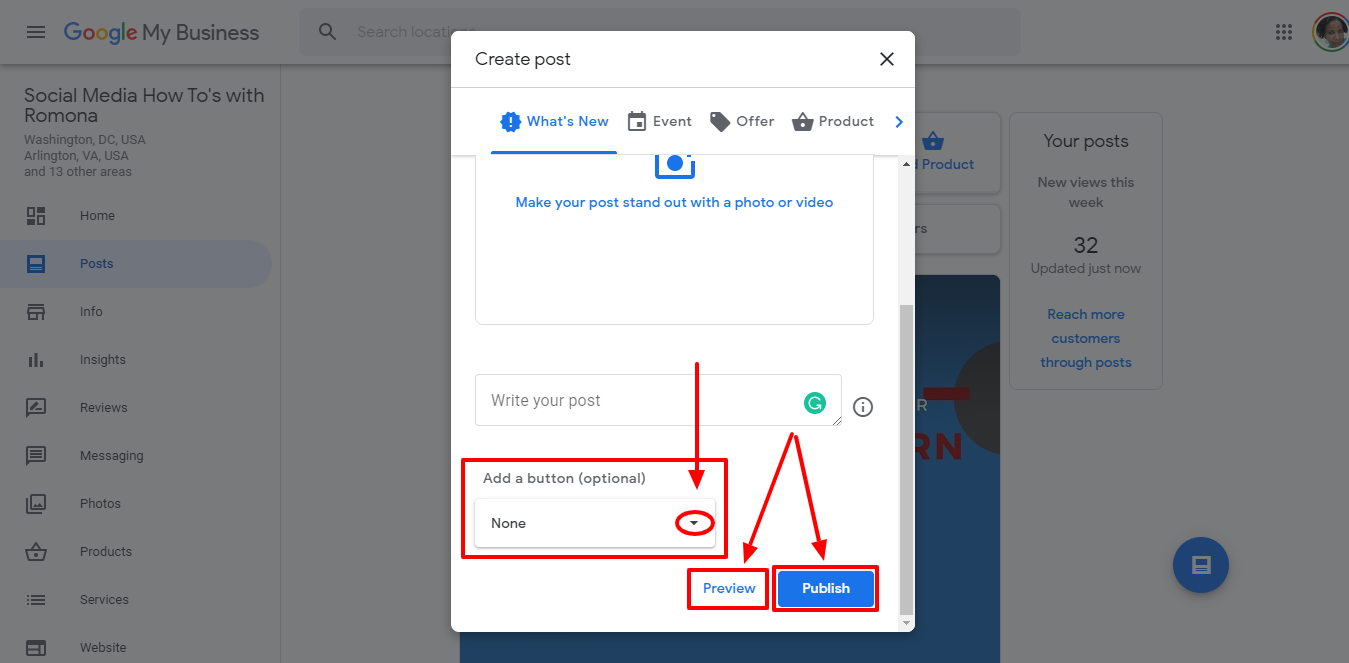 5. Now, we are going to upload an image, so click on the camera icon.
Then, either click the blue button to select a photo from your computer or drag a photo or image that you want to upload.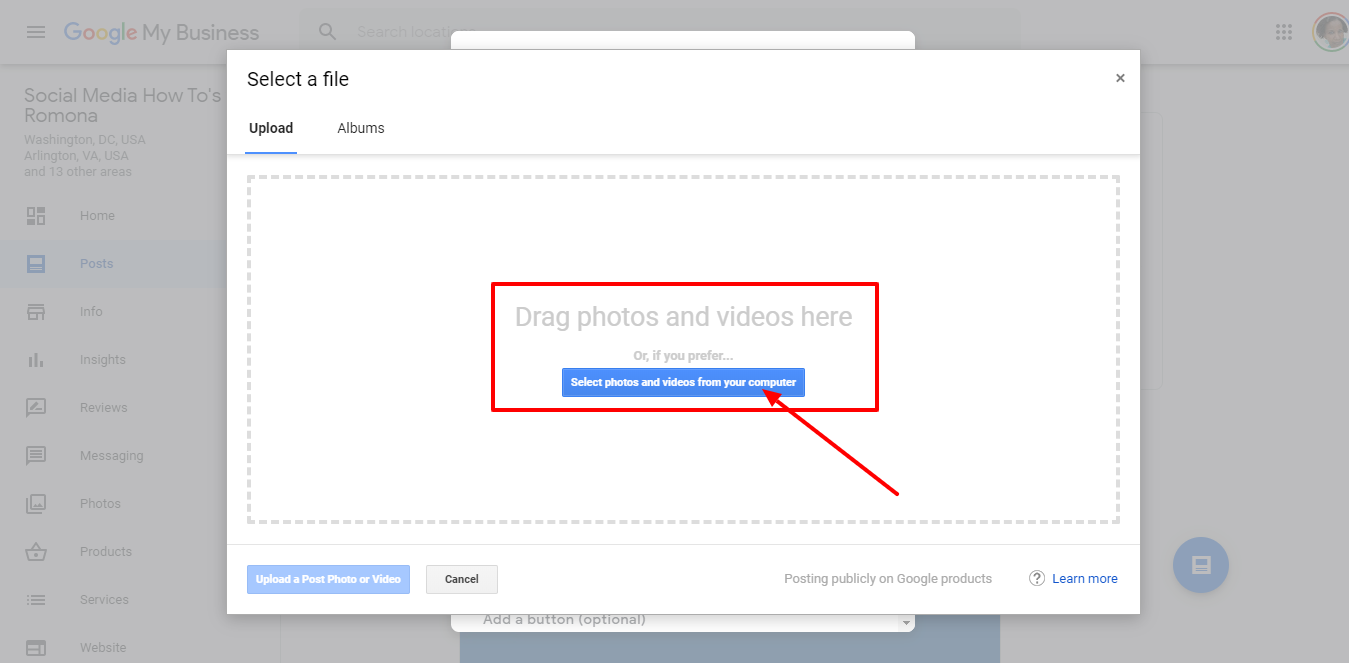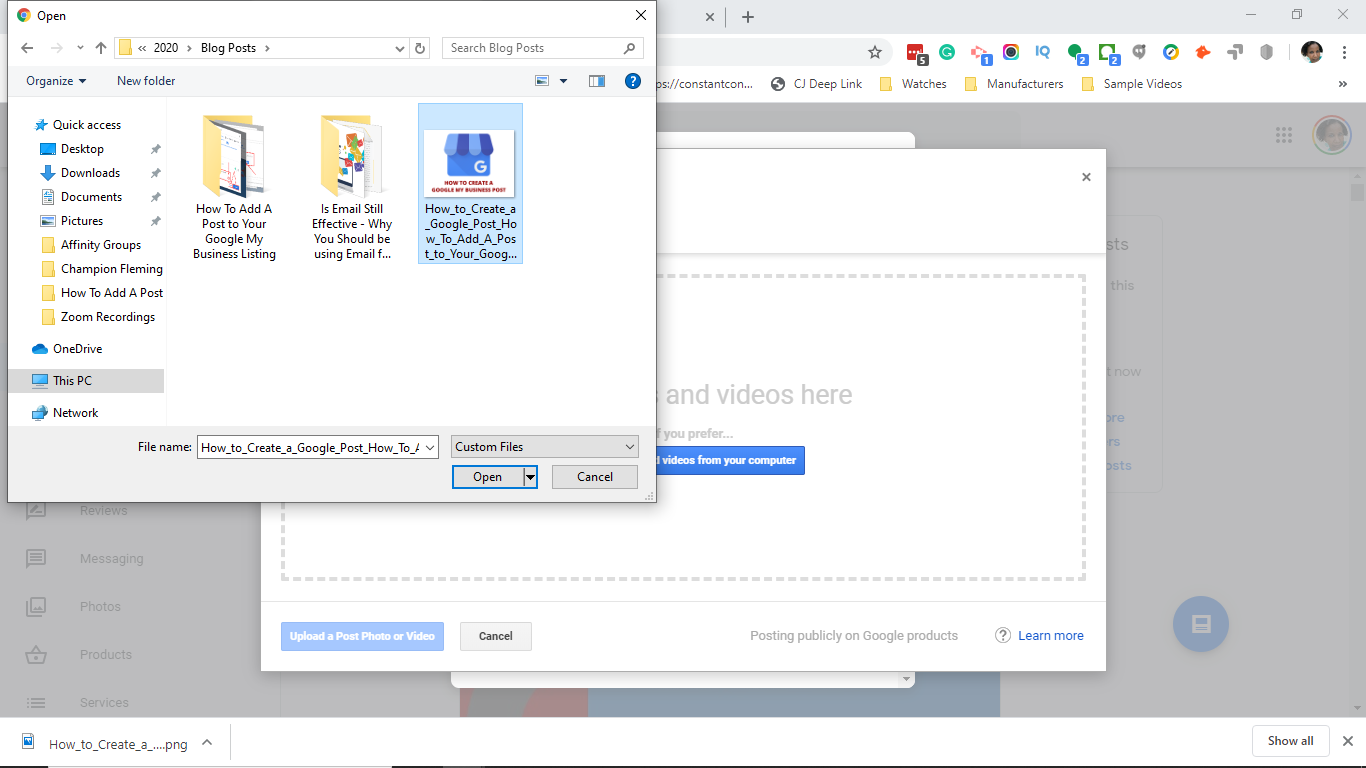 Once your image is uploaded, you will see icon options to crop, edit or delete it.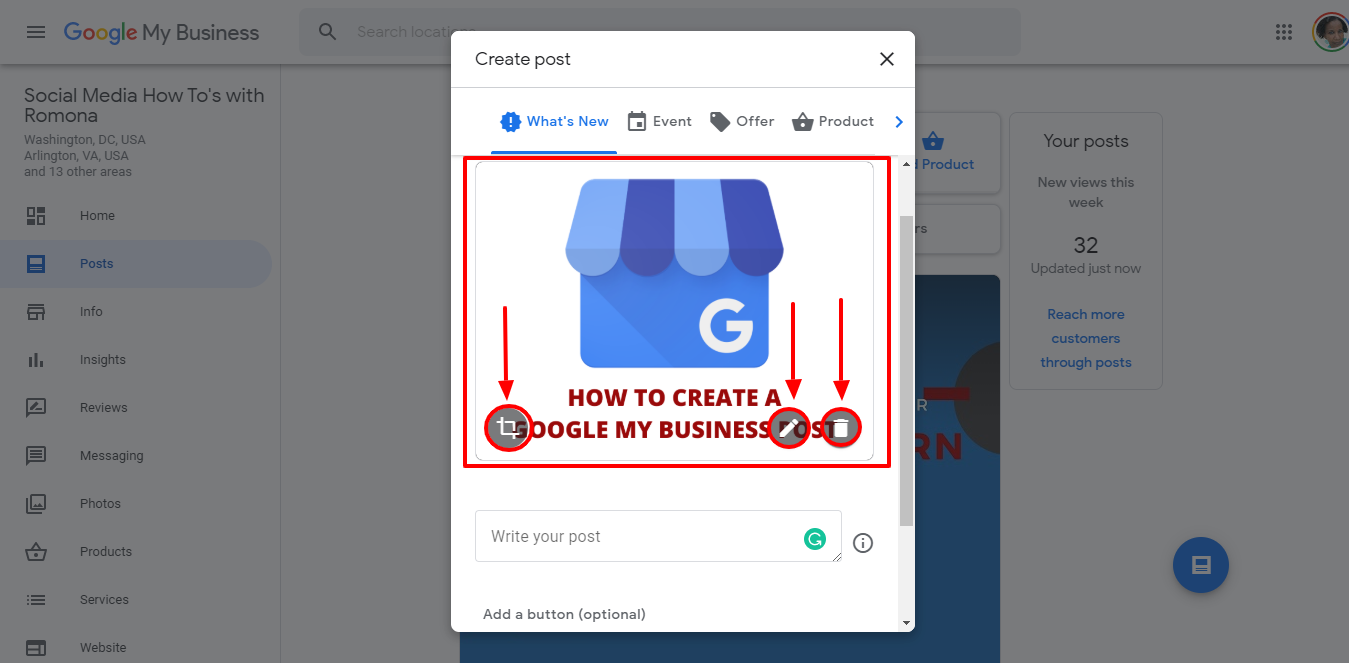 6. In your final steps, you will type your post copy, add a button and the link to where you want the button to send people to (this is optional), take a look-see by hitting preview, then click the big blue 'Publish' button!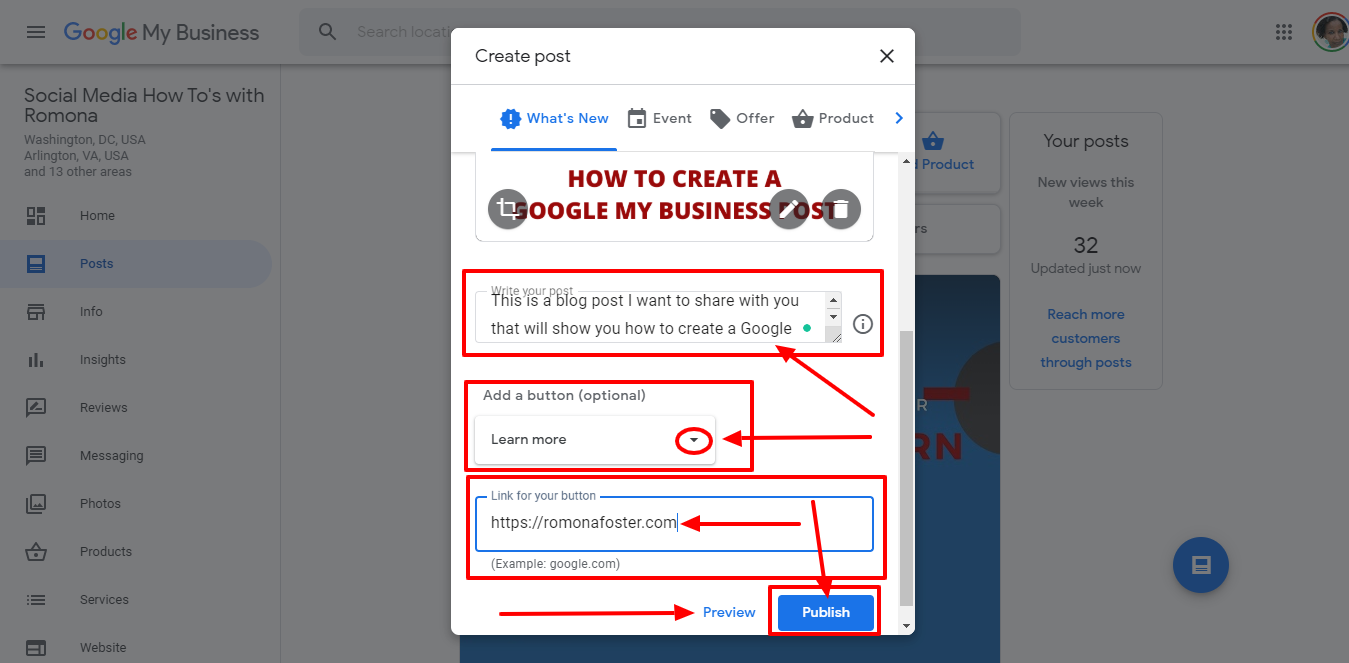 7. Now that you've posted an update to your Google My Business profile, you can share the post on Facebook, Twitter or via email. Google will also give you a shareable link, and the option to view your post on Google.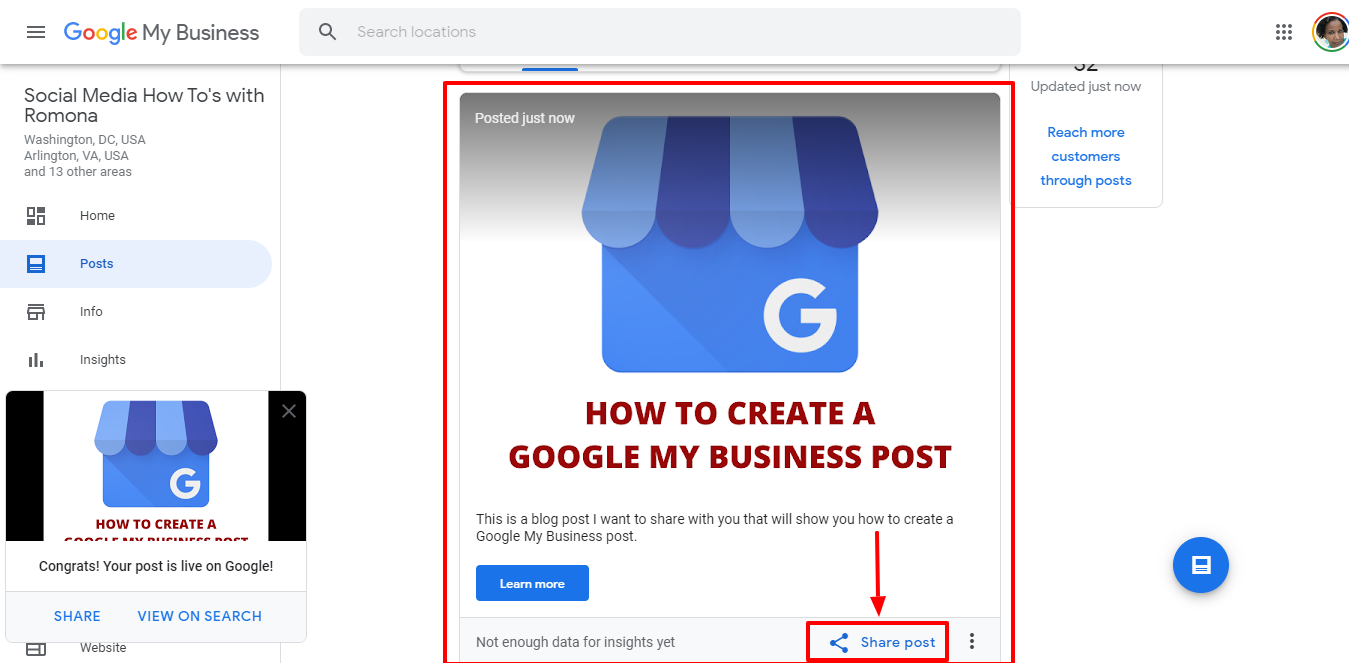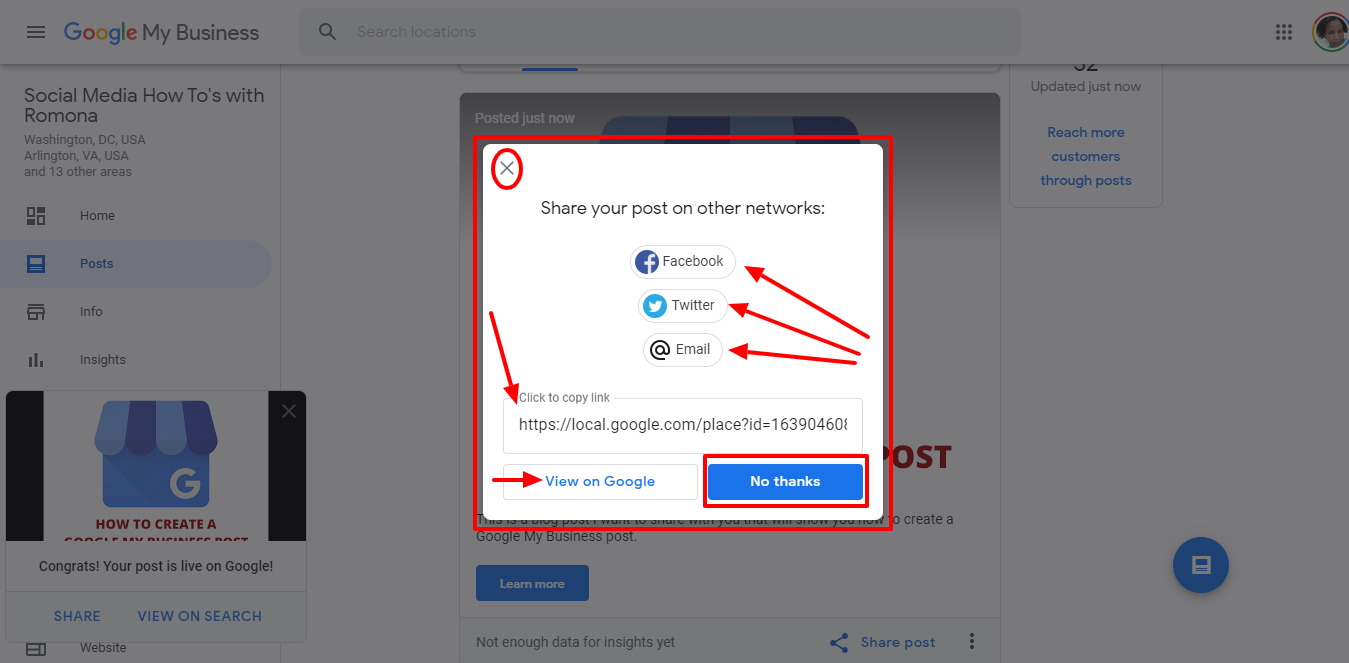 8. You may also click on the three dots beneath the post and choose to edit, delete or view the post on Google Search.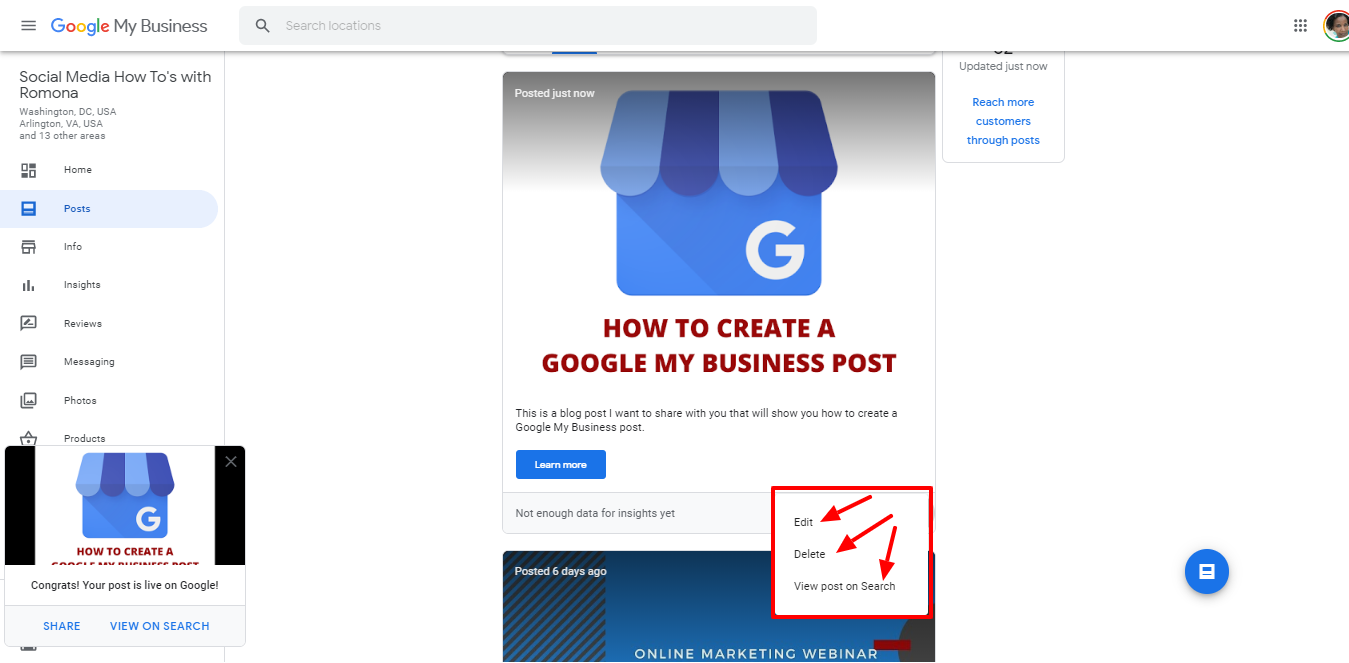 If you choose to delete your post, you will receive a message that states, "Once deleted, this post cannot be recovered. Any insights associated with this post will be deleted as well." If you don't want to delete it, click 'Cancel'.
GOOGLE MY BUSINESS POSTS FAQ's:
What is a Google Business Post?
A Google Business Post is when you publish an update about your company, upcoming events, products, services or offers to Google Search and Maps through your Google My Business Listing.
What are the benefits of Google My Business?
It's a free way for you to get your business found on Google Search and in Google Maps.

You can ask for and receive reviews from your customers using the URL Google provides to you.

You can promote your events, products, and services to potential customers.
What Size Should Your Google My Business Post Photo or Image Be?
Google recommends photos for posts to be between 10 KB and 5 MB with a recommended resolution of 720px x 720px with a minimum resolution of 250px x 250px. I use photos and images that are 720px x 540px on my Google My Business Listing posts.
What Types of Photos Should You Add To Your Google My Business Listing?
Photos of the outside or inside of your business

Product photos

Photos of you doing what you do

Your staff and/or volunteer photos

Photos of clients or customers that you wish to feature

Event photographs
What Format Should You Save Your Photos or Images In?
Save your photos or images as a JPG's or PNG's.
Should I Use Hashtags On My Google Posts?
No. Though I've seen online some say it can't hurt to post hashtags, it's been my experience when adding a hashtag that Google has not approved posts with hashtags in them. Hence, I've only gotten error messages when I attempted to use them. The posts were only approved once I removed the hashtags.
How Long Do Google My Business Posts Last?
Google Posts expire after 7 days or if the post is an event, it will expire after the event date has passed. When your post expires, Google will send you a notification letting you know that your post is about to expire. They will also encourage you to post a new update to your listing.
How Often Should You Post on Google?
Though there are no hard rules on how often you should post on your Google Business Listing, I recommend that you post at least once a week since your Google post will expire after 7 days. It has been said that posting once a day will give you a higher ranking in the Google search.
How do I delete a Google My Business Post?
To delete your Google My Business post, click on the three dots underneath your post and select delete. See step 8 above for a visual.
That is that, and I hope this was super helpful for you. As I always say, don't be scured. Just give it a try and see what results you receive.
Before I go, remember I am a Grow with Google High Impact Partner and have helped hundreds of businesses get found online. So, if you don't have a Google My Business Listing set up yet, be sure to schedule a quick call with me to find out how I can help you create one for your business. Peace!
---
Resources:
Add Photos or Videos to Google Business Listings
Types of Business-Specific Photos for Google My Business
Post on Google As A Local Business
Romona Foster is the Social Media Trainer and Consultant at Social Media How To's with Romona. Romona teaches small businesses and nonprofits how to use Facebook, LinkedIn, Twitter, Instagram, Google My Business — and the best practices of Email Marketing, Online Marketing, Affiliate Marketing, and Personal Branding. She is a featured contributor with Business2Community and is a Constant Contact Community blogger.