Today, I received the following question on Twitter:
"Romona, I've gotten a "follower" who, shall we say, isn't interested in my message. Her photo is more appropriate to some other type of site. That's all. Should I: 1. ignore, 2. block, or 3. mute? I had one similar follower and she unfollowed after a few days. Thanks."
The screenshot below shows my response, but being true to my new goal of blogging the answers to the social media questions that I receive, I'm going to answer this question in detail here.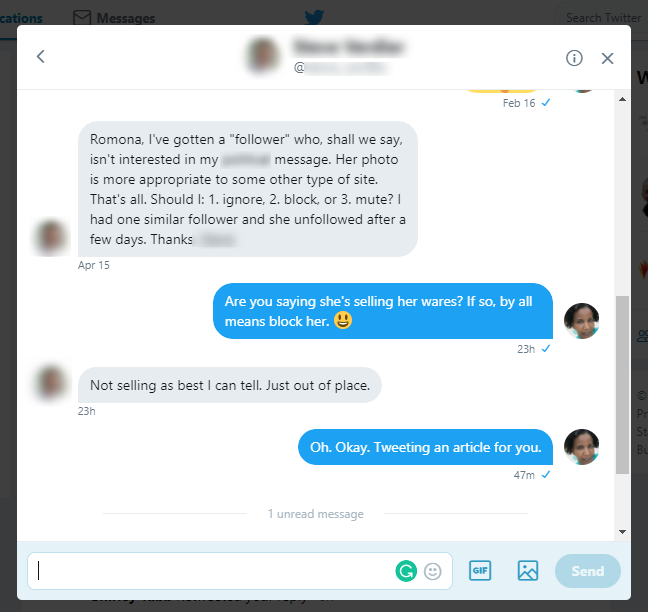 First, let's address the woman who may have been an inappropriate follower. Yes, you will gain followers who are sometimes doing some things you may not want to be associated with. It happens and there are four options that will help you deal with this situation — three of which my friend mentioned above.
Option 1: Ignore.
This is quite obvious. That's right, you just ignore them and let them continue following you. This works well for those who have made the number of followers their top priority on Twitter. The more the merrier, right?
Here are some pros and cons to this option (keep in mind that one man/woman's pro is another man/woman's con):
Your followers will see your Tweets in their Twitter timeline.

Followers will show up in your followers' list (ca-ching!)

You'll have the ability to send them direct (private) messages (I don't think my friend was interested in doing this. Tee hee!)
Option 2: Block.
You can block the follower. This will work for the no-nonsense … I ain't having it kind of person. (You know who you are.)
I have included screenshots below to show you how to do this. For step-by-step directions click here to read my blog post entitled, "How to Remove Yourself from a Twitter List."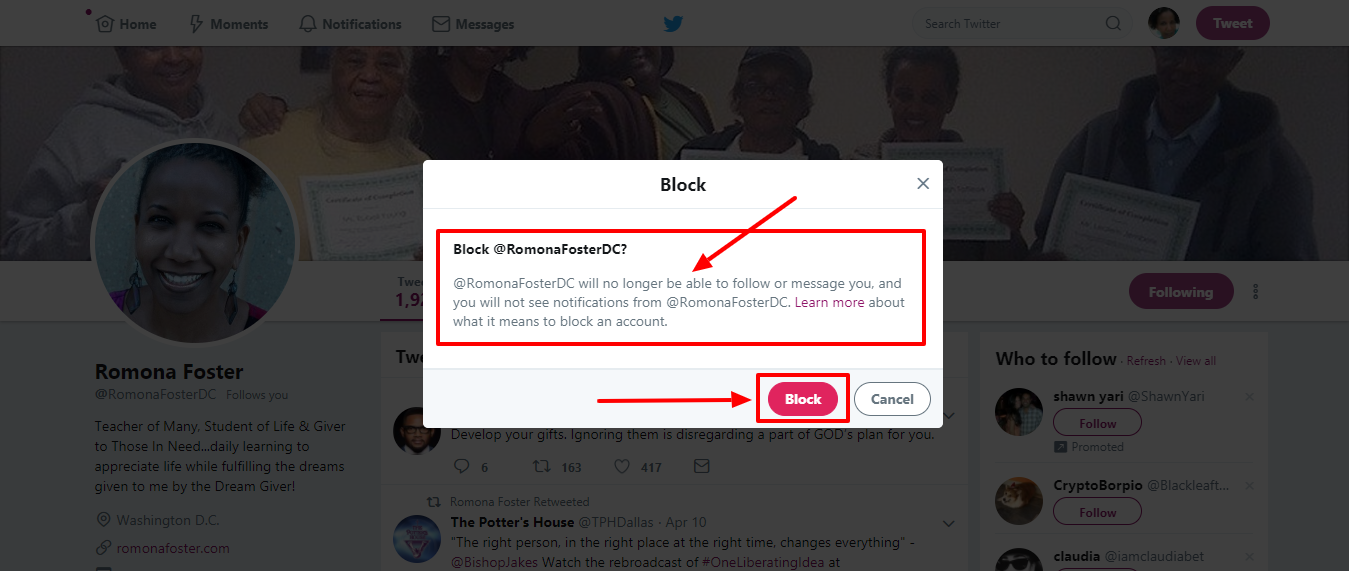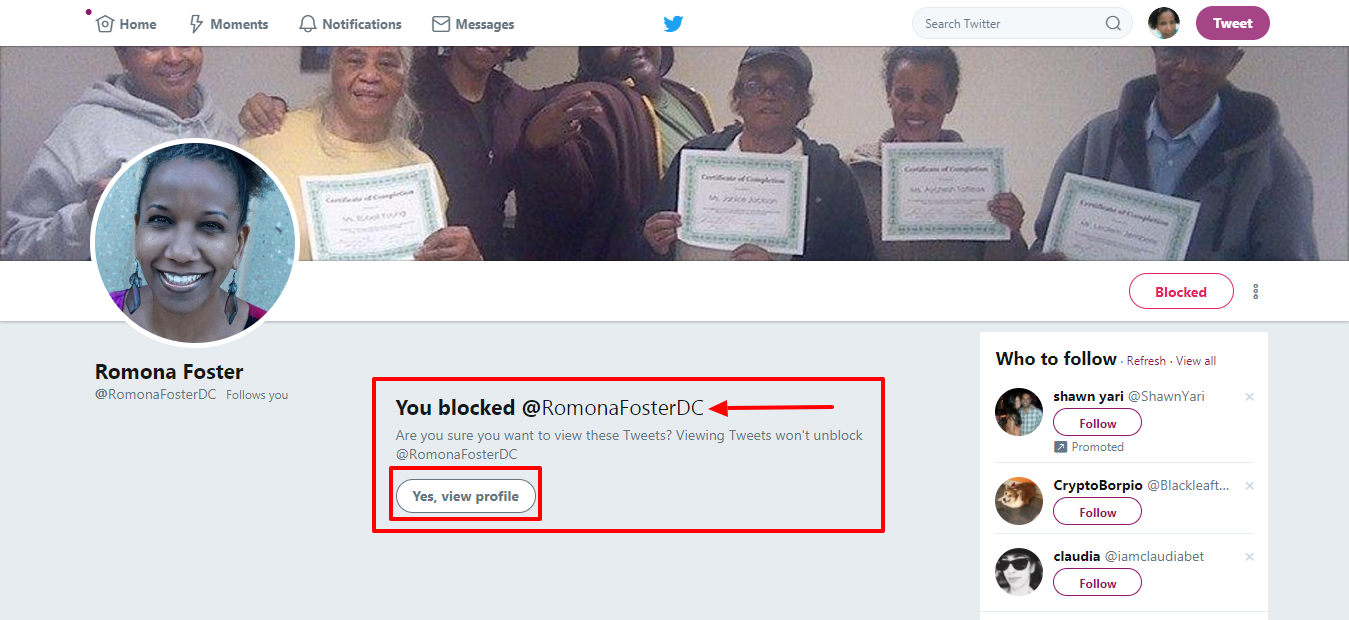 The pros and cons of blocking someone on Twitter:
They won't be able to follow you.

You will see a blocked icon when you visit their profile.

They will see a blocked icon when they visit your profile. (Yes, they will know that you blocked them.)

Your Tweets will not appear in their timeline.

If they visit your profile, they will not be able to see any of your Tweets.
You can easily unblock anyone by visiting their profile and clicking on the block icon.
Option 3: Mute.
You could alternatively mute the person's account. Muting an account means you will no longer see the person's tweets in your timeline. You will silence them for the moment, however, you will still be following them. This is for those who don't want to hurt anyone's feelings, but you're not interested in what they are tweeting about. (You're sensitive to other people's feelings and that is just fine.)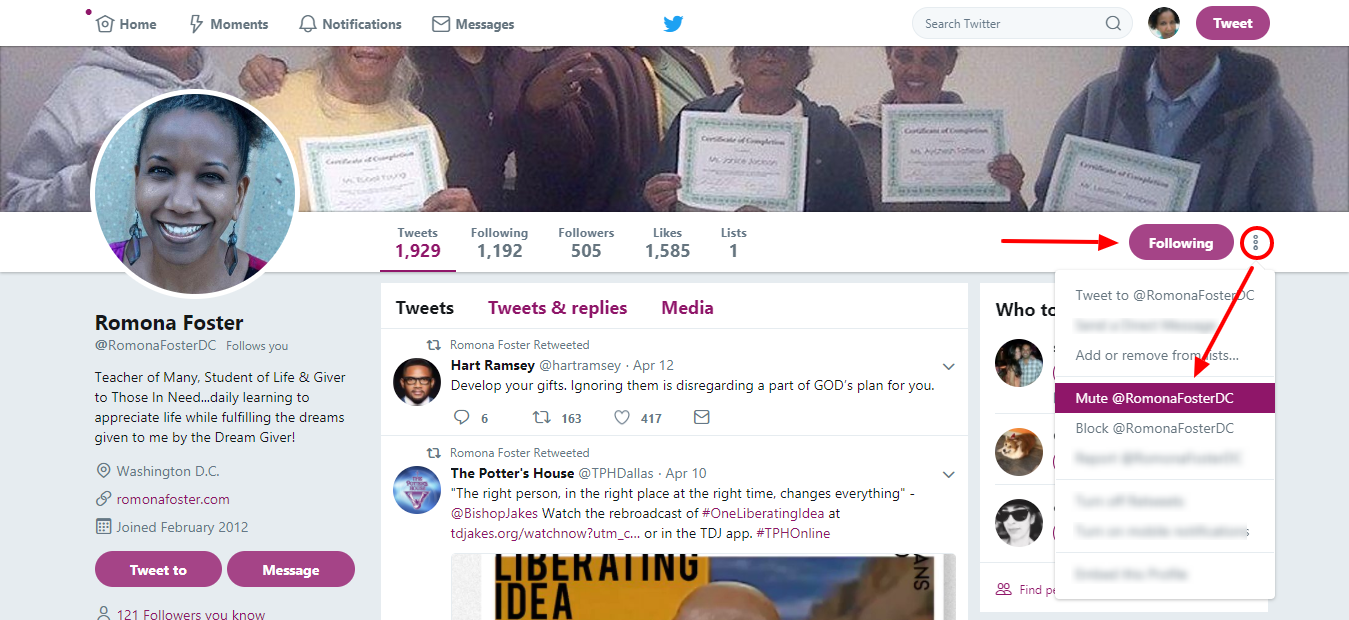 Pros and Cons of muting an account on Twitter:
They will not know that you've muted them.

You can unmute them at any time.

Muted accounts can follow you.

Muting an account will not cause you to unfollow them.

The muted account can still send you Direct Messages.
BONUS!
Option 4: Protect Your Account.
When you first set up your Twitter account, you will have the option to make your Tweets public or private. My recommendation is, if you're in business, your business Twitter account should not be private (exceptions may include members-only organizations that may want to communicate via Twitter).
To protect your tweets, follow the screenshots below: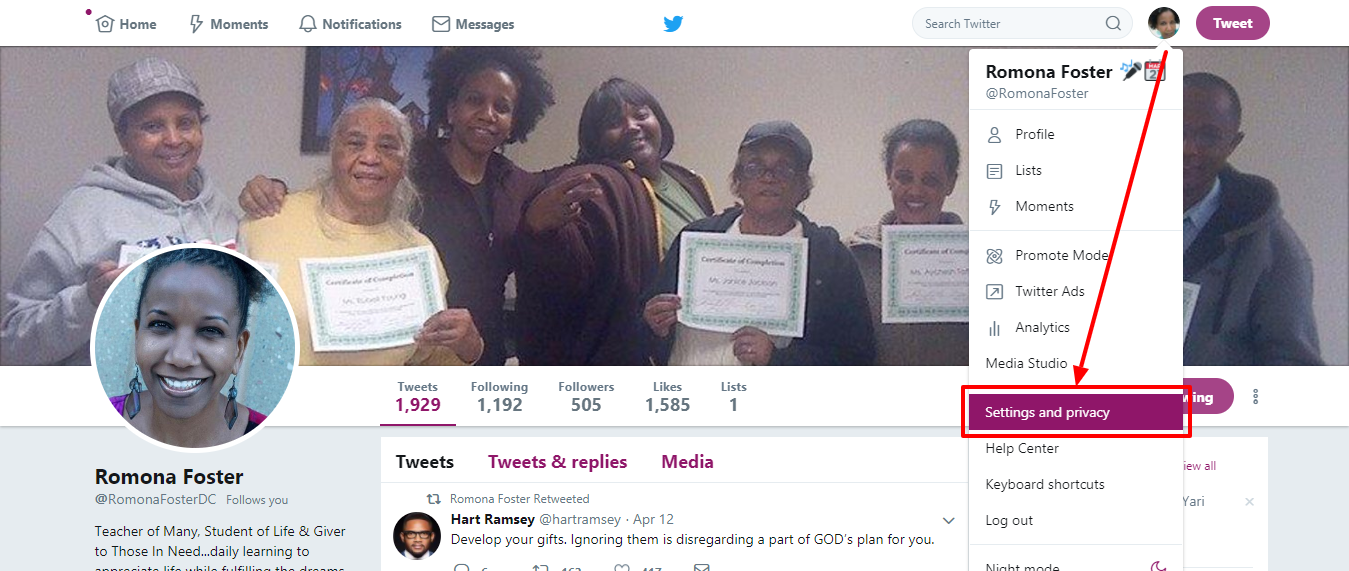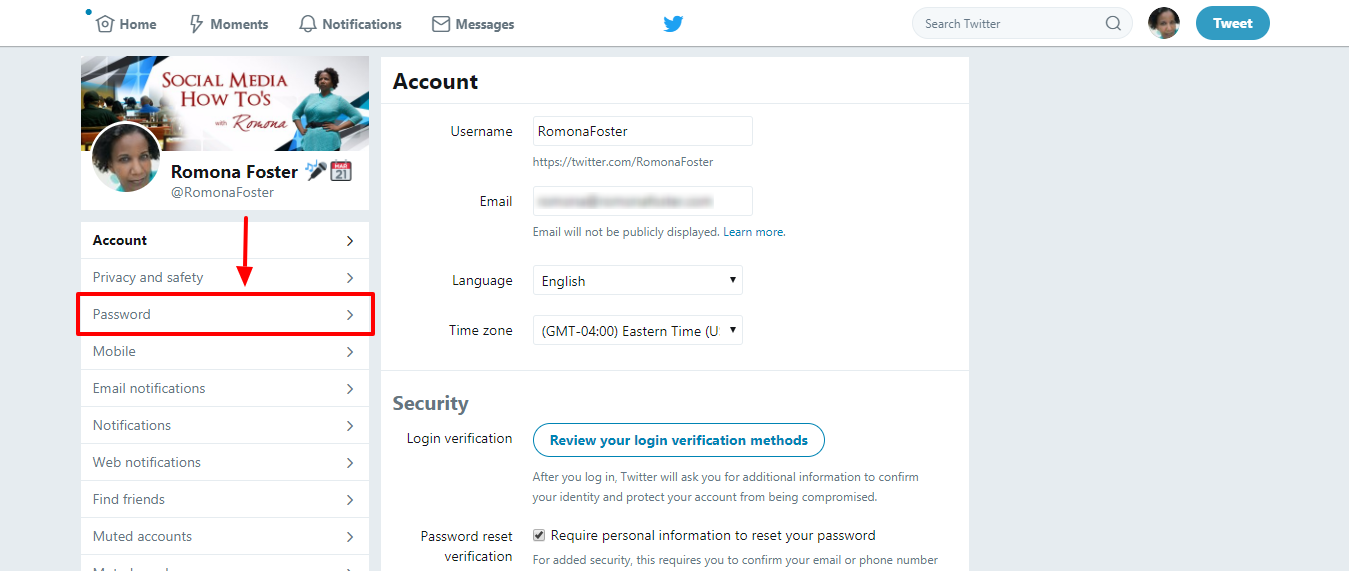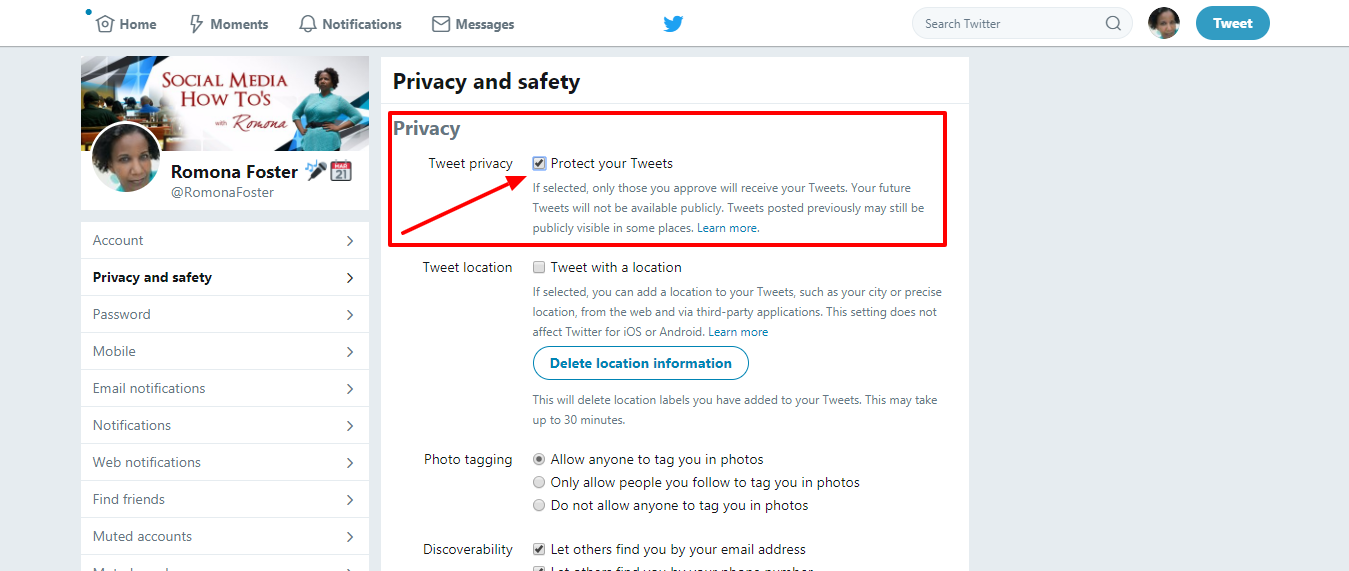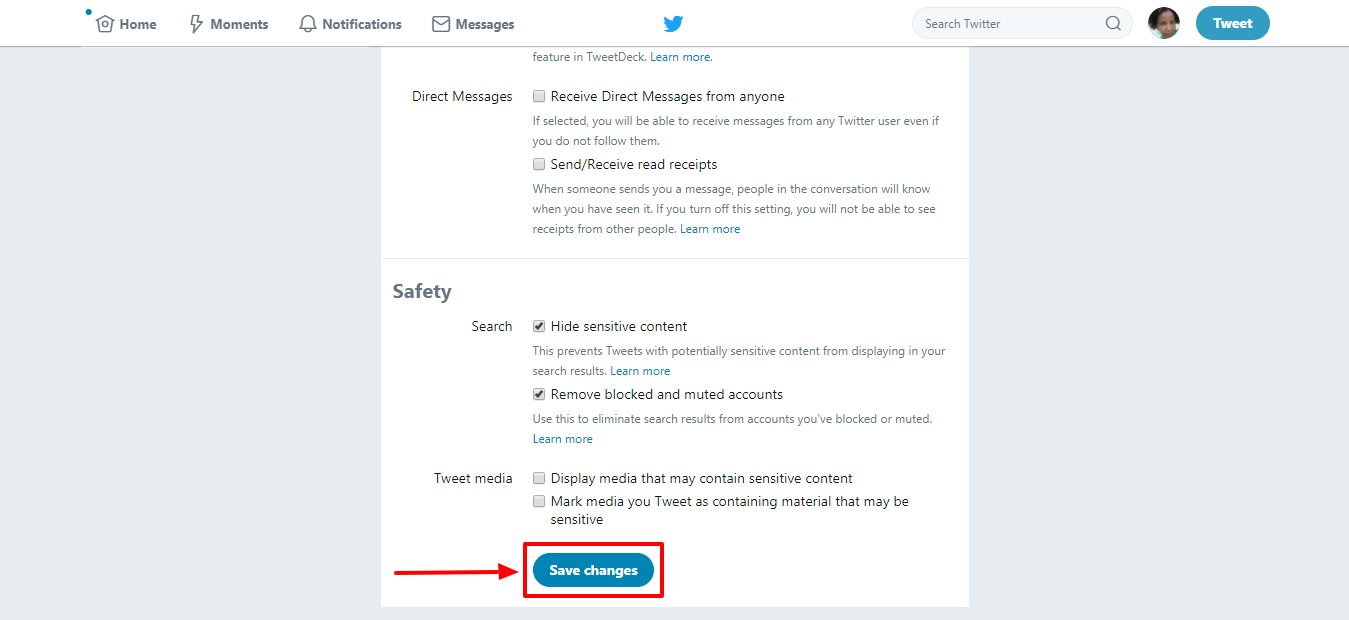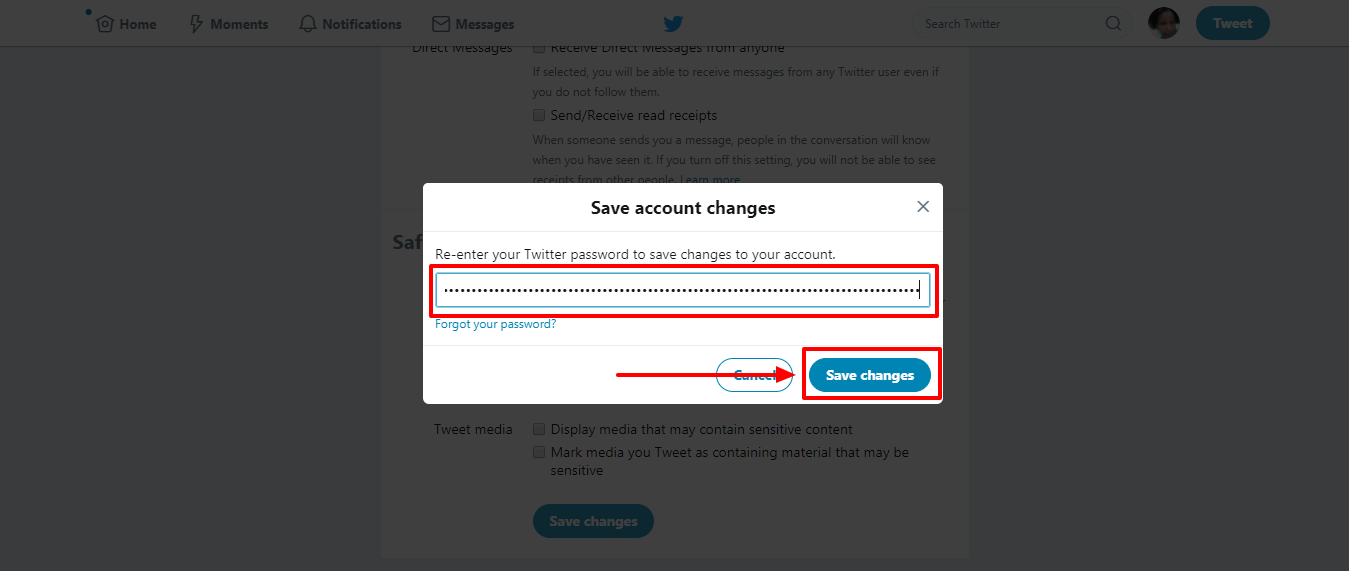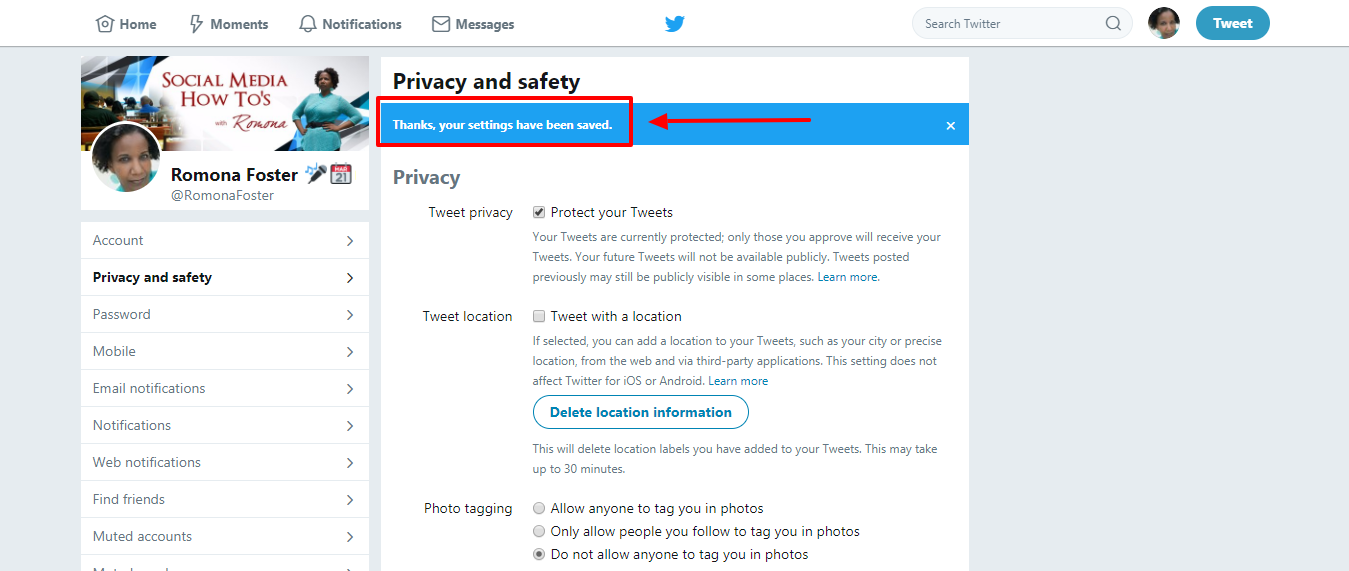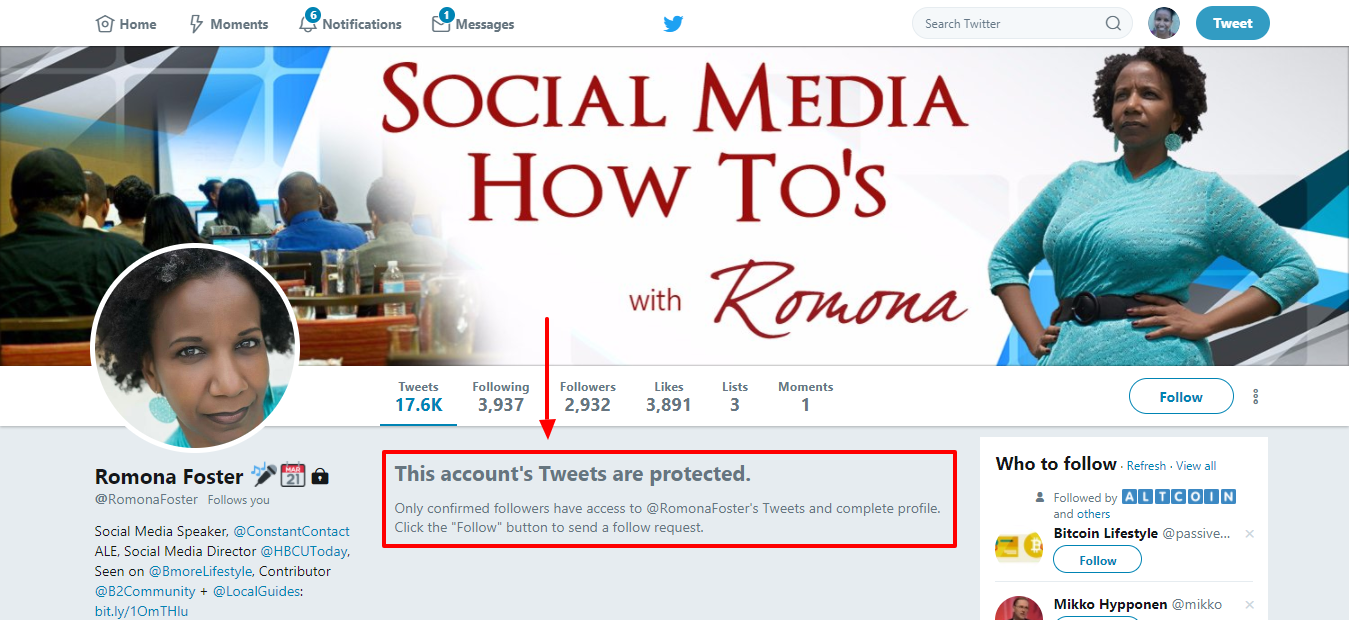 Protected Tweets pros and cons:
If your tweets are protected, people may click on the Follow button, but they will get a message that you have to approve their follow request.

You can unprotect your tweets at any time.
Want to learn more about how to use Twitter? Click here to schedule a one-on-one Twitter training!
Sources:
How to Remove Yourself from a Twitter List
Twitter Following FAQS
Blocking and Muting on Twitter
How to Mute Accounts on Twitter
How to Make Your Tweets Private or Public
Romona Foster is the Social Media Trainer and Consultant at Social Media How To's with Romona. Romona teaches small businesses and nonprofits how to use Facebook, LinkedIn, Twitter, Instagram, Google My Business — and the best practices of Email Marketing, Online Marketing, Affiliate Marketing, and Personal Branding. She is a featured contributor with Business2Community and is a Constant Contact Community blogger.